The San Diego Hunger Coalition and other local food groups are urging residents to call on their representatives to stop a "secret farm bill," referring to a move by the House and Senate agriculture committees to race ahead of the 2012 legislative process. | Video Credit: Brian Myers
By Megan Burks and Brian Myers


A group of concerned residents, farmers and nonprofit workers met in densely populated City Heights last week to wrap their heads around a $284 billion federal spending bill once reserved for rural and Midwest politicos to debate.
With the nation's growing interest in the eradication of food deserts, urban residents like those in City Heights have been gearing up to leave their mark on the 2012 Farm Bill, which will lay out spending and policies on everything from crop subsidies to school cafeteria menus.
Now, they're just hoping the bill doesn't become law too quickly.
In its meeting last week, the San Diego Hunger Coalition and other local food groups urged residents to call on their representatives to stop a "secret farm bill," referring to a move by the House and Senate agriculture committees to race ahead of the 2012 legislative process by including food policy in "super committee" recommendations.
The closed-door Joint Select Committee on Deficit Reduction, or super committee, must recommend a package of spending cuts—$1.2 trillion over ten years—to Congress by Nov. 23. Critics say including a farm bill in the proposal robs citizens of the chance to influence a bill that affects what we eat and how much we pay for it.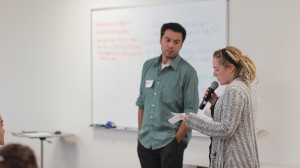 After scrawling the phone numbers of San Diego Congresswomen and men on large pieces of butcher paper, Adam Scow and Kenzie McDonald urge attendees to call on their elected officials to stop a super committee farm bill. | Photo Credit: Brian Myers
"We want to prevent a secret farm bill in the next two months so we can have a normal, public dialogue about it next year," said Adam Scow of Food & Water Watch, a California nonprofit working to get urban communities involved in the farm bill process.
"This is really time sensitive," said Kenzie McDonald of City Heights. "If the recommendations go forward, San Diego won't have a choice."
Hunger Coalition Executive Director John Criswell said San Diego isn't sure what it wants in the bill just yet, commenting residents still need time to learn about the massive bill—the last one was just shy of 1,800 pages—and come to an organized consensus.
Most at the meeting said the bill shouldn't cut spending on nutrition programs such as food stamps. They said more money should be directed to education programs that help people sign up for food stamps, pointing to San Diego County's poor enrollment rate and great need in low-income areas like City Heights.
According to the California Health Interview Survey, 35 percent of low-income adults in San Diego County reported not having enough food or fearing they would go hungry in 2009.
2008 Farm Bill Funding
Nutrition (food stamps) – 78 percent
Subsidies and Insurance – 15 percent
Conservation – 6 percent


(California Food and Justice Coalition)
Many also condemned government subsidies of grains, which food activists say foster unhealthy diets among the poor. The subsidies make processed food—where much of the nation's grains go—cheaper than fresh fruits and vegetables.
Meeting speaker Lotta Chan compared a box of blueberry Pop Tarts to a package of fresh blueberries. For just a dollar, one can eat six of the pastries or 30 individual berries, she said.
But taking on grains and corporate farms seemed a bit unwieldy for some.
Before making over the kinds of food grown and consumed in the United States, McDonald said she wants to change the face of the people who grow it. She said she'd like to see the farm bill fund programs that bring farming to the nation's youth, who she said would grow a healthier food system less reliant on commodity crops.
Many others also talked about getting help for San Diego's young, urban agriculture scene.
"Supporting our local farmers and creating a more localized food system will generate economic health, community health and vitality for our country overall," said Mallory Cochrane, who organizes the International Rescue Committee's Fresh Fund program at the City Heights Farmers Market.
"The farm bill is a huge opportunity for the San Diego community to improve our food system," said Kate McDevitt of Slow Food Urban San Diego. "We really hope that we have the opportunity to have a voice in that."