Crawford High School students and teachers are protesting a district proposal that could reverse school reform they say has improved student achievement and behavior. Many gathered in front of the school board meeting Nov. 29 to voice their concerns through chants and a mobile PA system. | Video Credit: Brian Myers, Media Arts Center San Diego
By Megan Burks
Watching Faiza Ahmed flit one corner of the bungalow classroom to another to supply students with markers, glue and butcher paper, one would never guess she spent "more than a few" of her high school days on suspension.
The former Crawford High School student, 24, said she often got caught up in the campus' violent racial disputes of the early 2000s. Teachers started calling them the spring riots.
"We came to school knowing there would be a fight," said Ahmed, who graduated in 2004. "We were thinking about survival, not going to college."
"It scarred me," she said.
But Ahmed returned to the diverse El Cerrito campus as an advisor for the school's American Civil Liberties Union chapter. She's helping current students paste together banners and compose chants aimed at stopping a school board decision that would change Crawford from a campus of small schools to the larger one she experienced.
This summer, the school district made public a proposal to do away with Crawford's small schools as part of a plan to patch its $72 million deficit. Traditional schools cost about $40 less per student than small schools; that adds up to about $370,000 in savings.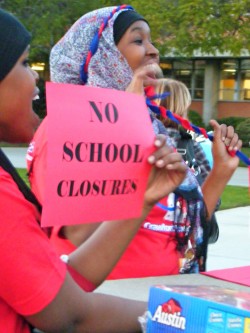 Crawford senior Hawo Abdi chants in front of the Board of Education meeting. She spoke out against consolidating Crawford in a series of school-produced videos sent to district leaders.
Students, educators and parents say the move would be shortsighted. Ahmed credits the new model with calming racial tensions and improving student achievement. It's why she can step back on campus today, she said.
"It's surreal coming here and comparing what I had to what I see now," she said. "I don't want any of the youth to go through what I went through."
Currently, Crawford operates on the small schools model championed by the Bill and Melinda Gates Foundation early last decade through nationwide grants. Administrators and teachers made a radical structural shift the year Ahmed graduated, turning the large campus into four separate schools, each with their own focus, administration and funding.
Educators throughout the country believed the strategy would improve student achievement and behavior by allowing for more personalized attention. Principals and counselors were responsible for hundreds instead of thousands of students. Teachers could build relationships across grade levels.
Stanford researcher Linda-Darling Hammond gave the strategy her qualified support. In a 2009 evaluation of small schools in Oakland, she found mixed gains at the start of the restructure, but said schools would benefit later on.
Since embracing small schools in 2004, Crawford has seen a 20 percent increase in state test rankings. Enrollment in Advanced Placement classes has doubled. Teachers said the number of college acceptances has skyrocketed, too. Last year, the Community Health and Medical Practices School saw a 61 percent college acceptance rate, according to teacher Brian Black.
The district, however, is defining success with a different measure: market share. Crawford enrolls less than 40 percent of the students within its boundaries. The rest choose magnet schools such as Mission Bay High School for its International Baccalaureate program and Patrick Henry High School for its music program.
"People work hard at Crawford," said board member Shelia Jackson. "It's a challenging job and they've done good things over there, but the bulk of the community says it doesn't want to go."
Jackson said consolidating Crawford's small schools would make it easier to fund AP and elective courses, extracurricular activities and special academic programs she said would make the campus more competitive. Money could be pooled to fund specialty teachers instead of duplicate curricula and administrators.
And with busing to magnets slashed, district leaders say making neighborhood schools viable is more important than ever. Many in City Heights don't have cars and could return to their neighborhood schools out of necessity.
"If this becomes an opportunity to re-envision ourselves, we should embrace it," said Area Superintendent Shirley Wilson. "This isn't an indictment to say Crawford is doing a bad job, it's an opportunity to make it better."
But Crawford students and staff said they doubt the proposed change is about improving educational opportunities.
"The bully right now is the Board of Education," Ahmed said.
The board's realignment committee has suggested Crawford operate much like Lincoln High School, a comprehensive campus just five miles south that offers subject-based specialties without the separate administrations of small schools. But Lincoln lags behind Crawford on state tests, improving just 14 percent to Crawford's 20 percent.
What's more, the proposal represents a significant decrease in funds for the campus. If enacted, Crawford would have less per-pupil funding than Lincoln and other similar schools.
"I'm just starting to ask the wildest questions because nothing else makes sense," said teacher Jonathan Winn. "Is this discrimination? Because it's not happening to any other community, it's happening to the lowest of low-income communities."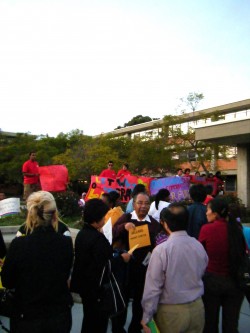 At the Nov. 29 meeting, Crawford parents were outnumbered by Patrick Henry High School parents, who asked the school board for a new auditorium.
Many said they believe Crawford has been singled out because its parents are less vocal. At last week's school board meeting, about 30 students showed up with the chants, banners and armbands Faiza helped them assemble. Only one parent was there.
That's largely because of the area's high immigrant population. Parents lack transportation, time off from work and English language skills. Many also came from countries where education was a luxury and relationships with authority were different.
"In my parents' minds, the school district only has one job—to educate the students," said Peter Mekonnen, 15, whose parents emigrated from Ethiopia. "They don't assume that there are politics involved. They think the education is better here so [the district] must be doing everything right."
So the Crawford ACLU has been organizing meetings to get parents involved. The first meeting reached out to Spanish-speaking parents. A second is planned for Filipino and Burmese parents Friday, said Iddo Gelle, another ACLU advisor.
"Everyone has a part to play, because at the end of the day, it's for them," Gelle said, pointing to the students braiding armbands and scrawling on banners in one of Crawford's bungalows.
Students and staff plan to protest the proposal through Dec. 13, when the school board is scheduled to make its final decision.