By Megan Burks
[Editor's Note: Field Guide is a weekly email bringing you the news, explainers and action items needed to navigate your changing community. Click here to subscribe.]
FIELD GUIDE TOOLBOX
2012-2013 Budget Proposal: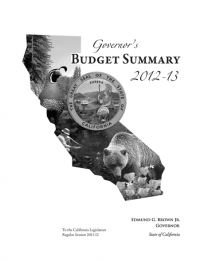 Click to read
Proposed Reductions:
(Dollars in Millions)
CalWorks – $946.2
Medi-Cal – $842.3
In-Home Care – $163.8
Childcare – $446.9
CalGrants – $301.7
Other – $1,514.9
Total – $4,215.8
____________________
NEXT STEPS
February – Budget proposal to be examined by Legislative Analyst's Office and budget subcommittees
May – Budget proposal revised
June – Budget bills sent to Assembly and Senate floors
June 15 – Deadline for legislature to pass budget
Late June – Governor to sign or veto budget
July 1 – New fiscal year
Gov. Jerry Brown unveiled his state budget proposal last week. The plan would take a significant chunk out of California's budget deficit by cutting spending by $4 billion and asking voters to come up with $7 billion in new taxes.
As in years past, much of the trimmings would fall from the state's safety net – the social services many in City Heights rely on.
Below, we outline how the governor's proposal may impact City Heights residents. Keep in mind, however, that this is just the first step in crafting a new state budget. The proposal will go through a full legislative process before the new fiscal year starts in July.
What Was That About the Safety Net?
"Programs that take care of kids, vulnerable adults, people with severe disabilities – which are about a quarter of the state budget overall – would take about three-quarters of the proposed spending cuts."
That's what Jean Ross of the California Budget Project told the California Capitol Network Friday. If that sounds dismal, that's because it is for the state's poor.
The governor's budget calls for nearly $950 million in cuts to CalWorks, the welfare program that helps many in City Heights cover basic family needs, including subsidized childcare payments to many refugee women who run daycare centers in the neighborhood.
On the chopping block: the amount of time an adult could collect welfare-to-work benefits, the amount of monthly assistance children receive and childcare subsidies for some.
Additional health and human services cuts include ending in-home help for disabled residents who live with non-disabled adults or children, and trimming the Healthy Families program.
Did You Say New Taxes?
In addition to deep cuts, Gov. Brown's budget relies on new tax revenue. He's asking voters to approve a November ballot initiative that would increase income taxes for individuals who make $250,000 or more and up the state's sales tax by a half cent.
Residents in City Heights, where the median household income is less than $30,000, would likely only feel the increased sales tax.
How Do Schools Fare in the Plan?
Schools fare pretty well in the plan if you ignore that they've been taken hostage with a $5-billion bullet.
If voters fail to approve the tax increase this fall, the governor plans to automatically cut $4.8 billion from public education. If that happens, San Diego schools would face $50 million in cuts on top of the $72-million deficit already projected, district spokesman Bernie Rhinerson told KPBS.
Otherwise, schools would see in increase in state funding over last year. Funding structures could also change to benefit schools with more disadvantaged kids.
Would you vote for the governor's tax initiative? Tell us here.