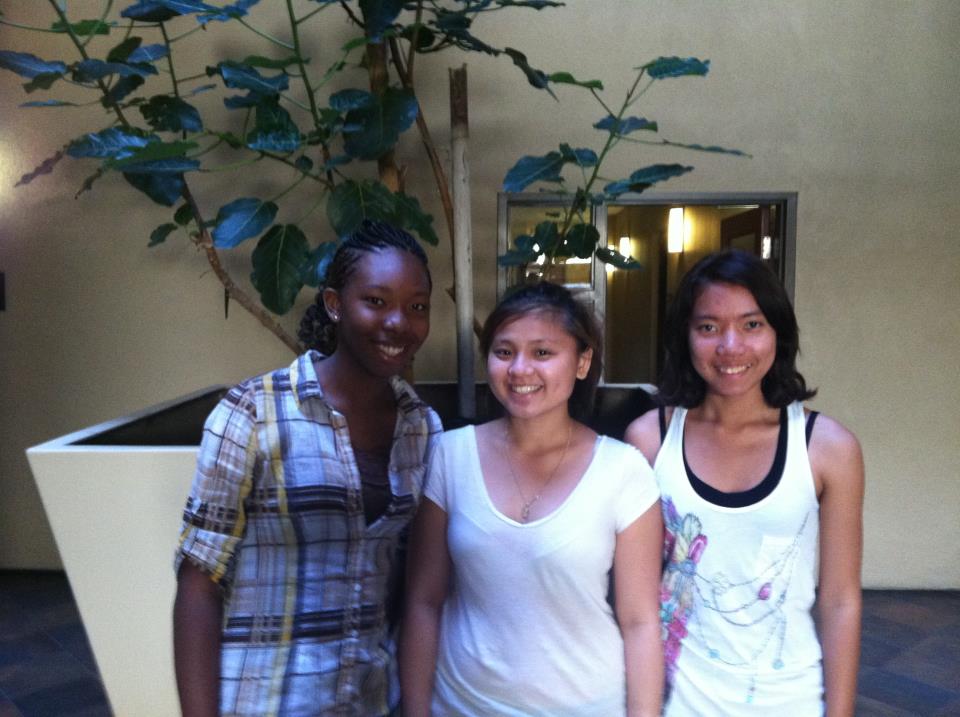 Hoover High School interns Raenita Spriggs, Stacy Nguyen, and Hanh Nguyen at the City Heights Square senior housing complex. | Photo courtesy of the Intergenerational Health Advocacy Project
Staff Report

The Intergenerational Health Advocacy Project, which pairs teen computer tutors with seniors living at City Heights Square, is living proof that people don't always know what they want until they already have it.
The founder of the program, the Consumer Center for Health Education and Advocacy, conducted several surveys three years ago with City Heights senior citizens and high school students and discovered both age groups had unfavorable opinions of each other. Seniors thought high school kids were disrespectful and high school students thought seniors were grumpy. Despite the survey results, the Consumer Center went forward with plans to implement an intergenerational computer training course.
The course matches high school students from Crawford, Hoover and Health Sciences High and Middle College with elderly residents at the City Heights Square senior housing complex and two downtown locations. The students teach seniors how to access health benefits online and get connected with the modern world; the seniors share their wisdom with the young and their connections with the past. The meshing of these two generations has brought some unexpected results.
Project manager Kristi Evans recounts one previously antisocial senior who became actively engaged after his computer tutor showed him how to look up his small English hometown on Google. After receiving a few computer lessons he was able to find a photo of himself and his girlfriend on the Internet from when he was 17 years old. He soon started online banking and contacting family members he hadn't communicated with in years.
Evans says stories like this are common. Through the project, many seniors are now using Skype and Facebook to reconnect with family and friends, raising their self-esteem, keeping their minds active, and improving their health and well-being.
Seniors are also discovering they enjoy interacting with their teens. Evans says they love telling their tutors what it was like to live in the 1930s or back in their birth country. The project has trained some senior tutors, but the overwhelming majority of requests are for teen tutors.
Seniors aren't the only ones finding out their opinions of other generations can change. Evans says that 60 percent of her high school tutors ask if they can continue volunteering after their three-month internship is over.
The intergenerational project is inspired by research from the Kaiser Family Foundation, AARP, and others that shows most seniors on Medicare are not online, that a disproportionate number of ethnic-minority seniors haven't applied for all the benefits they are eligible for, and that seniors living in group homes are at risk of becoming antisocial. Combined with research that shows youth from low- income communities are at higher risk for not completing high school than their higher-income peers, the Consumer Center selected the City Heights Square senior housing complex as an ideal location to carry out the program.
The project, funded by the Gary and Mary West Foundation, supplies laptop computers and recruits approximately 40 high school interns a semester to volunteer four hours a week at one of the three locations. About a dozen seniors  at City Heights Square benefit from the computer training per semester.