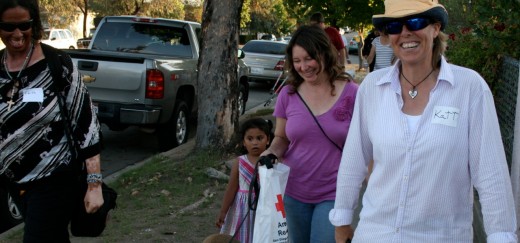 Katt Eaton, founder of Urban Aggregate, leads Poplar Street Stroll, a tour of the street highlighting its unique walkability features, canyon connections, and new business potential. | Photo courtesy of Katt Eaton.
By Katt Eaton

In City Heights, the two main commercial corridors are El Cajon Boulevard and University Avenue. However, it's important to not overlook the value of the smaller neighborhood business corridors throughout the 16 communities in City Heights.
Neighborhood shops and corner markets can be an asset to residents by offering convenience, walkability, and a place to connect with neighbors.
They also can be a liability.
In some instances, corner markets rely heavily on cigarette and liquor sales. That emphasis "often makes them magnets for litter, loitering, drug dealing, and prostitution," according to community health advocates at Public Health Law and Policy. "Improving the product selection at corner stores is one way to address a host of concerns facing urban and rural communities."
An effort is underway in Azalea Park to do precisely that. What is happening there is a prime example of what residents can do to partner with local businesses to create healthier options and create a more vibrant commercial corridor. The business corridor in Azalea Park is predominantly located on Poplar Street and serves as a place where neighbors can shop, get a quick bite to eat, and socialize with each other.
As founder of Urban Aggregate (a local consulting company that works to improve the health and safety of communities by bridging public health and business interests), I partnered with local organizations and agencies to survey almost 300 Azalea Park residents to identify concerns and learn what products and services they want most. Of those surveyed more than half are current customers of neighborhood markets, almost half have lived in Azalea Park for more than six years, and half have children.
When asked what they wanted to see more of, respondents overwhelmingly said they wanted neighborhood markets to stock more fresh produce and have a deli, fruiteria, and coffee shop.
Concerns ranged from expired food products still on the shelves, the safety of the area around the stores, and the sale of alcohol to minors.
Urban Aggregate is in the process of sharing the survey results with Poplar Street businesses, and the early response has been favorable. The history of Urban Aggregate's work suggests businesses that partner with neighborhood associations on revitalization efforts can increase profitability while becoming community assets.