By Megan Burks
For the second piece in our series on the candidates vying for the District 9 City Council seat, I wanted to know how the candidates would support efforts to build trust between local law enforcement officers and City Heights' diverse residents.
City Heights has long been considered one of San Diego's most dangerous neighborhoods. A 1998 article in U-T San Diego called the community the "rotting core of America's Finest City" where the goal was to keep it "from flaming into a Watts or Hunter's Point, with its crime and misery flowing across neighborhood lines into Kensington."
Whether the neighborhood deserved that kind of theatrical prose is questionable, but its historically high crime rates did encourage Sol Price to raise a brand new police substation at the center of his urban village development.
That substation has changed things. Crime rates are down and residents now celebrate a new tradition of community policing in City Heights.
Nearly every day, community groups meet in the substation's conference room to share ideas with officers, mentor youth and organize volunteer patrol efforts. A multicultural storefront in the heart of City Heights' Somali community positions police service officers–many of them immigrants and refugees–to bridge cultural divides.
But many immigrants and refugees in the neighborhood are still wary of law enforcement officers. We reported on two cases in which residents were deported because of minor infractions–that isn't supposed to happen. Refugees who fled civil wars have also told Speak City Heights reporters they feel uncomfortable around officers who once served in the military and police in a similar style.
And there seems to be constant fear in the community about its successes–the storefront and its PSOs–losing funding.
Lt. Andra Brown said the storefront isn't in danger of being closed, nor are its officers in danger of layoffs. But their funding relies on the health of the city's budget. Community leaders have asked City Council to identify a permanent source of funding for the program.
Because such challenges still worry community leaders, I asked the candidates the following question: Mid-City police have a multicultural storefront and public-service officers to help open lines of communication between the neighborhood's immigrant and refugee populations and its law enforcement officers. But many still don't trust police officers. If elected, how would you strengthen the relationship between these populations and the police?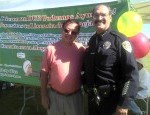 Camarillo and National City Police Chief Adolfo Gonzalez | Credit: Camarillo
Mateo Camarillo
Businessman and activist
There are historical reasons why multicultural, immigrant and other communities in District 9 do not trust the police to protect them.
The Saigon Penn case dramatizes how African American communities fear the police. Latinos also fear the police based on past performance. In the 1970s, police officers attacked members of the Brown Image Car Club.
I called Mayor Pete Wilson to a community meeting the following day. The Mayor, City Manager and Police Chief apologized. This history of abuse is seared in the memories of many Latinos.
Efforts such as creating a Civilian Review Board with no authority to take corrective action undermines the effort of the overwhelming members of the police force who are committed public servants to protect and defend residents. I have spoken at Police Academy classes in an effort to make a difference.
Channel 10 News did a news story on Feb. 21 documenting problems that still exist in the police department. I served on the Citizens Law Enforcement Review Board, County of San Diego, in an effort to build community confidence on police agencies. Stronger leadership is needed at the policy level (elected officials). The City elected official with over-site responsibility for the police department is a candidate for District 9. Voters should hold elected officials accountable to insure they do their job.
En Español: Hay razones historicas multicultural porque los inmigrantes y otras communidades no tienen confiaza en la policia y no confian en que ellos estan ahi para servir y proteger.
El caso de Saigon Penn es como los Afro-Americanos temen al departamento de policia y tambien los Latinos tienen temor a la policia basado en hechos reales. En los 1970's la policia ataco mienbros del Club de carros, Imagen Café.
Yo le llame al presidente de la ciudad, Pete Wilson, para que se presentara ese dia en mis oficinas para disculparse por la manera que se porto la policia. El Alcalde, el jefe de policia y el gerente de la ciudad se presentaron para disculparse enfrente de la comunidad Latina. Esta historia de abuso esta grabado en la memoria de la comunidad Latina.
Esfuersos como establecer un Comite de Ciudadanos para revizar el tratamiento de la policia sin poder o autoridad  refleja mal en todos los policias que verdaderamente quieren proteger y prestar buen servicio al pueblo. Yo he hecho presentaciones en las clases de la Academia de la Policia para enfocar la impotancia de respetar y protejer a la gente.
El canal 10 de television hiso un reportaje en las noticias el 21 de Febrero de este ano. El reporte indica que todabia  hay problemas en el departamento de policia. Yo he estado por anos en el comite de revisar la conducta de el departamento del condado de San Diego para que la policia del condado se porte bien y que el pueblo tenga confianza que estan protejidos. Se nesesita liderazgo por oficiales elegidos. La candidata para regidora del Distrito 9 esta encargada de supervizar el departamento de policia. Los votantes tienen que vigilar y demandar que los elegidos hagan su trabajo correctamente.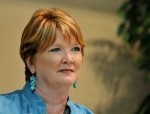 Emerald | Credit: Sam Hodgson
Marti Emerald
District 7 Councilwoman
My staff and I work closely with our Mid-City neighborhoods and San Diego Police on a range of issues:  Monthly curfew sweeps, graffiti removal, traffic concerns, mini-dorms, sober living facilities, tracking criminal activity and supporting citizen patrols that serve as the eyes and ears for our understaffed police department. We see a flourishing partnership between our police officers and the communities they serve.
The Multicultural Center is a vital player in this relationship, and I will continue to support it. Despite all the improvements in this partnership, there is still some mistrust for police and government authority. Some of this may stem from the relationship between citizens and law enforcement in the home countries of our immigrant population. Some may be the product of a cultural divide.  No matter the cause, we must constantly work to improve the relationship between the community and the police department by offering more opportunities for police and citizens to interact and to understand we all have the same concerns.
As Chair of the City Councils Public Safety and Neighborhood Services Committee, I support efforts in our police department to hire more staff and sworn officers from diverse cultural backgrounds, beefing up community policing and engaging the public in more neighbor programs that involve residents and police.
One prime example is the monthly Mid-City curfew sweeps. Once a month, Cherokee Point Elementary School is the staging area for this effort to get kids off the streets and keep them safe. Community volunteers work with police, the kids, and their families in this effort. The Multicultural Center is another great success story, where people from all cultures can meet and plan initiatives, and where they can find support and services from our police.
Going forward, I hope to restore and expand our community policing and storefront programs, create greater diversity among police staffing and greater diversity in police oversight, including the citizens police review board. All are small steps, but combined, they could have a big impact on community trust and support for our police.
En Español: Mi personal y yo trabajo con nuestros barrios en Mid-City y con la Policía de San Diego en varios asuntes: aplicaciones mensuales de la toque de queda; la eliminación de grafiti; el tráfico; clínicas del alcoholismo; rastreando el crimen; y apoyando patrullas ciudadanas que sirven como los ojos y oídos de nuestro policía que no tiene suficiente personal. Vemos una asociación floreciente entre nuestras policías y las comunidades a que ellos sirven.
El Centro Multicultural es un parte integrante en esta relación, y continuaré apoyarlo. Hay sido muchas mejoras en esta asociación, pero todavía hay desconfianza en la policía y la autoridad del gobierno en partes de nuestra comunidad.  Esa situación desafortunada puede resultar de, en parte, la relación entre ciudadanos y ministerios de la aplicación de la ley en las patrias de nuestra comunidad inmigrante. También puede existir una división cultural que contribuye. No importa la causa, hay que trabajar constantemente para mejorar la relación entre la comunidad y la policía, ofreciendo más oportunidades en que la policía y ciudadanos se pueden interactuar y entender que todos tenemos un interés mutual.
Como presidenta del Comité de Seguridad Pública y Servicios del Barrio del Concejo de la Ciudad, apoyo los esfuerzos de la policía para contratar más personal y agentes con orígenes diversos, para fortificar su programa de vigilancia vecina, y para dedicarse a programas de barrio que  involucran a los residentes y la policía.
Un buen ejemplo de estos esfuerzos es el programa de aplicaciones mensuales de la toque de queda en Mid-City. Cada mes, la primaria Cherokee Point sirve como el área de ensayo de este esfuerzo para quitar jóvenes de las calles y asegurar su seguridad. Voluntarios de la comunidad trabajan con la policía, jóvenes, y familias para realizar esta meta. El Centro Multicultural es otra historia de éxito: el Centro es un lugar donde gente de todas culturas pueden reunir, planear iniciativas, y encontrar el apoyo y los servicios de la policía.
En el futuro, deseo restaurar y expandir nuestro programas de escaparates y policía del barrio, crear más diversidad en la policía y en la supervisión de la policía, incluyendo el comisión ciudadano de revisión de policía. Todos estos son pasos pequeños, pero combinado pueden tener un gran impacto en la confianza de la comunidad y apoyo a nuestra policía.
Miss last week's Q&A with the candidates? Click here to find out what they have to say about engaging the community's Latino population.