By Megan Burks
Last week, a group of City Heights advocates surveying sidewalk conditions along University Avenue stopped for respite under the awnings of a sprawling, block-long bus stop over Interstate 15.
Maria Cortez walked straight to the drinking fountains to check for running water. The transit station—and its counterpart on El Cajon Boulevard—has sat as a shell of what it could become for nearly a decade. The drinking fountains don't work. The bathrooms and kiosks are boarded up. Elevators to take passengers to buses on I-15 below haven't been installed.
The transit stations, meant to stand out as City Heights landmarks, instead remain as open wounds borne in a decades-long battle between the community and transportation authorities.
The stations went in after CalTrans extended I-15 through City Heights, bulldozing homes and ripping the neighborhood in half. A bus route called Centerline, with quick boarding at freeway level, was its peace offering.
That promise was made in the 1980s. The wait might finally end this year, when construction to complete the stations is set to begin.
But Centerline is now the poster child for a host of other transportation deficiencies in City Heights. In a community where the median household income is about $24,000 and transit use is four times the national average, high bus fares and slashed service remain issues. Residents say transit accessibility has degraded as transportation planners have prioritized freeway expansions for suburbanites.
So this week we asked the candidates for District 9, Mateo Camarillo and Councilwoman Marti Emerald: Transit centers that could connect City Heights to job centers via Interstate-15 have long sat unused and bus fares have steadily crept upward. How would you work with transportation officials and what innovative approaches would you take to improve public transit options for City Heights residents?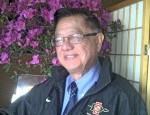 Mateo Camarillo | Courtesy of Camarillo
Mateo Camarillo
Businessman and activist
Public transit is very good along east-west corridors, especially along University Avenue and El Cajon Boulevard with the biggest capacity buses and frequent routes available. You are correct that public transportation can improve along the north-south corridor, especially along Interstate 15. This problem dates back 30 to 40 years when the City opened up housing and business development the northern part of the City instead of using best practices for infill and gradual growth in the suburbs, which has resulted in massive transportation problems, expensive fuel costs and costly municipal services.
This problem took many years in the making and will take many years to resolve. Approaches that I would encourage SANDAG, CALTRANS and the US Department of Transportation to review are best practices, especially what Los Angeles is doing to build mass transit corridors along freeway medians.
I would also advocate for trolley service from Mid-City and City Heights to northern job markets (Sorrento Valley, etc.) using the I-15 median for bus and trolley service (double decked).
En Español: Tienen razon que el transito publico entre el corredor norte-sur especialmente la autopista1-15 puede mejorar. Este problema empezo hace como 30-40 anos atraz cuando la ciudad apoyo el desarrollo urbano de viviendas y negocios en la seccion al norte de la ciudad especificamente los suburbios. Este plan ha presentado grandes problemas de transporte y costos muy altos de gasolina y servicios municipales.
Mi recomendacion es que SANDAG, CALTRANS y U.S. Departamentos de transportacion revizar las practicas mas efectivas como en Los Angeles e investigar lo que se esta implementando relacionado a resolver los problemas de transito.
Yo propondria servicio de Trolley desde Mid-City y City Heights a los sitios de empleo que se encuentran al norte de la ciudad (Sorrento Valley, etc.) utilizando la autopista 1-15 para servicio de camion y trolley doble.
Marti Emerald | Credit: Abigail Santos
Marti Emerald
District 7 Councilwoman
I remember when CalTrans marched down the middle of City Heights more than 20 years ago, using eminent domain to buy up properties, relocating residents and demolishing homes and storefronts along the gaping path of Interstate 15.  Highway planners took no prisoners, promising a new transit center as compensation for severing our beloved City Heights.
Now, fast forward to a new "century" and CalTrans still has not made good on its promise of a state-of-the art transit center with Bus Rapid Transit connecting City Heights residents with job and educational opportunities along I-15.  Promises made but not delivered.  I say it's time to change that for City Heights and our many mid-city neighborhoods that make up the new District 9.
I am already working through city staff with CalTrans on transportation projects and intend to push for the promised transit center. I am also thrilled to work with the mobility team at the City Heights CDC to create a mid-city transit system that meets the needs of our communities. This service could include free or flat rate bus routes helping residents get to work or school, shop at neighborhood businesses in District 9, or connect them to that yet-to-be built transit center.   I would also explore ways to create a greater role for taxis in this transit plan and work with our neighborhoods to make our streets safer and more pedestrian friendly.
Along with opportunities at City Council, I also serve on the Board of the Metropolitan Transit System and I chair the MTS Taxi Advisory Committee.  I look forward to collaborating with staff at the City, MTS and our Mid-City mobility advocates to help our residents travel more safely, efficiently and affordably.
En Español: Recuerdo cuando CalTrans marchó por el centro de City Heights hace más de 20 años, usando el dominio eminente para comprar propiedades, reubicar los residentes y demoler viviendas y vitrinas a lo larga de la ruta enorme de la I-15. Los planificadores de carretera no tomaron ningún preso, prometiendo un nuevo centro de tránsito como indemnización por la ruptura de nuestra querida City Heights.
Ya es el nuevo siglo, y CalTrans todavía no ha realizado su promesa de un centro de tránsito equipado con Tránsito de Autobús Rápido conectando los residentes de City Heights con trabajos y oportunidades educativas a lo largo de la I-15. Digo que es hora de cambiar eso para nuestros barrios de Mid-City que componen el nuevo Noveno Distrito.
Ya estoy trabajando a través de personal de la ciudad con CalTrans en proyectos de transporte, y quiero presionar para los centros de tránsito prometidos. También estoy encantado de trabajar con el equipo de movilidad en el CDC de City Heights para crear un sistema de tránsito del Mid-City que satisface las necesidades de nuestras comunidades. Este servicio puede incluir rutas de autobús de tarifa plana o libre, ayudando a los residentes llegar al trabajo o la escuela, ir de compra, o conectarse al centro de tránsito de futuro. También podría explorar maneras para crear un rol mayor para los taxis en este plan de tránsito y trabajar con nuestros barrios para que nuestras calles sean más seguras y más amigable a peatones.
Además del Concejo, también sirvo en el Junta de Directores del Sistema de Tránsito Metropolitano (MTS), y presido el Comité Consultivo de Taxi del MTS. Espero con interés colaborar con el personal de la ciudad, MTS y nuestros defensores de movilidad del área Mid-City para ayudar a nuestros residentes a viajar más segura, eficazmente y económicamente.
Miss our previous Q&As with the candidates? Find out what they have to say about developing El Cajon Boulevard, sustaining urban renewal, engaging the community's Latino population and building trust between police and immigrants.