Video Credit: Brian Myers, Media Arts Center San Diego
By Megan Burks
Haga click aquí para leerlo la en Español
Earlier this month, a group assembled by the City Heights Community Development Corporation's Built Environment Team set out to traverse City Heights—all 2.5 miles of it—by foot, wheelchair and stroller.
The goal was to survey sidewalk conditions and pedestrian hazards in
need of attention from regional planners and elected officials.
Sidewalk and crosswalk deficiencies add up to big problems for City Heights residents, who are four times more likely to use transit—and walk or wheel to transit stops—than the rest of the nation. Between 2002 and 2007, the rate of pedestrian crashes in City Heights was twice the rate citywide, according to Health Equity by Design.
Along University Avenue between Boundary and 54th streets, participants noted precarious crossings, sidewalks too narrow for wheelchairs to pass, dangerous holes left by uprooted trees, and missing or too-steep curb cuts (ramps) that pose problems for wheelchair users.
"The idea is to document and experience firsthand how the built environment affects our mobility and our safety," said organizer Randy Van Vleck, who ran smack into raised concrete with a wheelchair borrowed from the La Maestra Family Clinic.
"There were some areas where there was no pavement, and going over all of these bumps, the screws from my [wheelchair] foot plates came loose and started dropping," said Ian Dosland, a wheelchair user and hand cyclist. Dosland taught Van Vleck and others trying out the wheelchairs how to back into uneven curb cuts and drop from sidewalks without the accessibility feature.
What stood out for most of the participants was how conditions changed the farther east they went. Through the Cherokee Point and Corridor business districts, sidewalks were much easier to use, even pleasant. There, the streets were built to accommodate a streetcar that ran east to Euclid Avenue. Emphasis was on wide walkways, trees and storefronts.
Past Euclid, University Avenue widens to four lanes, sidewalks narrow and crosswalks are scattered up to six blocks apart.
"Unfortunately, after World War II the philosophy that was dominant in the United States, especially in southern California, was an auto-centric one," said Van Vleck. "The idea was to move cars as fast as possible. When we did that, we stopped planning for pedestrians and transit."
Planners and groups like Van Vleck's are working to revert back to some of the features popular before the automobile era.
In 2008, California lawmakers adopted the Complete Streets Act, which requires municipalities and urban planners to consider all types of road users when updating general plans and laying out projects. Cities, counties and transportation authorities have followed suit.
Late last year, the San Diego City Council and Eastern Area Communities Planning Committee approved a plan for the intersection of University Avenue and 54th Street that embraces complete streets ideas. There, cars can turn right through the intersection without stopping, thanks to separate turn lanes that function like freeway on-ramps.
According to Van Vleck, 77 crashes happened there between 2000 and 2010, making it one of San Diego's most dangerous intersections.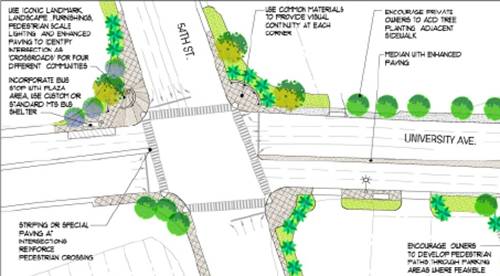 Plans for University Avenue and 54th Street intersection
|  Courtesy of Randy Van Vleck
Together with city staff, consultants and other advocacy groups, the Built Environment Team helped draw up plans that will slow right turns through the intersection by filling the separate turn lanes with green space. Cars will have to drive up to a perpendicular intersection before turning.
The approved plan is another win in a series of small-but-significant successes for City Heights residents. In September, city workers painted a crosswalk and improved visibility at University Avenue and 50th Street at the behest of nearby residents and shop owners, who saw 20 pedestrian accidents there between 2005 and 2010.
"I was really pleased with what I found," said Theresa Quiroz, treasurer of the City Heights CDC, after the first leg of the walk. "When I first arrived here, we had some really unworkable streets and it's become a lot more easy to walk around. The sidewalks are better, there are a lot more ramps to make it so that you can get from the sidewalk to the road and back up again."
More quick fixes—like adding a curb ramp at 48th Street and University Avenue or filling in empty planters—could be on the way. Staff members from Councilwoman Marti Emerald's office and SANDAG planner Beth Robrahn were also on the walking tour taking notes.
"What the people of City Heights want is complete streets," Van Vleck said. "We know that they work in other neighborhoods. We know where the funding is to do it. The next step is to implement it and put those things into the ground."
To get involved, contact Randy Van Vleck at rvanvleck@cityheightscdc.org or (619) 584-1535.
Haga click aquí para leerlo la en Español
[Correction: The original version of this article said a curb cut is needed at 48th Street and University Avenue. The location needs a curb ramp to help pedestrians and wheelchair users cross the street. According to Van Vleck, a curb cut is more like a driveway and could increase problems there.]