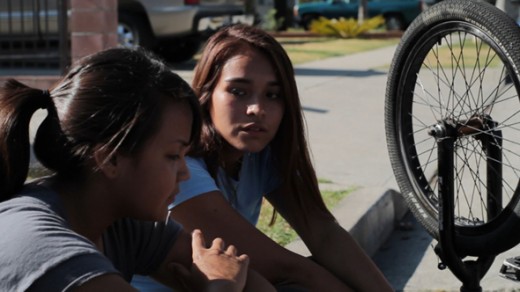 "Mosquita Y Mari" by Los Angeles-based director Aurora Guerrero tells the story of two Latina teens falling in love amid the backdrop of Los Angeles' vibrant Huntington Park neighborhood. | Photo Courtesy of the San Diego Latino Film Festival
By Megan Burks
Speak City Heights partner Media Arts Center San Diego will host the 19th annual San Diego Latino Film Festival tomorrow through March 18 at the UltraStar Mission Valley Cinemas at Hazard Center. This year's festival continues its tradition of showcasing the Latino experience through film, but expands its exploration to include the U.S. Latino perspective.
Each year, the festival focuses on filmmakers from a single country abroad. But a lack of Latino faces on American television and movie screens spurred festival organizers to focus their lens closer to home this time. With Latinos making up the fastest-growing segment of the U.S. population, their stories are wide-ranging and vital to understanding the Latino experience.
Two of the feature-length films in the festival's U.S. showcase are set right here in Southern California. "Mosquita Y Mari" by Los Angeles-based director Aurora Guerrero tells the story of two Latina teens falling in love amid the backdrop of Los Angeles' vibrant Huntington Park neighborhood and the characters' immigrant households. "Mamitas" by Nicholas Ozeki is a coming-of-age romance set in the Echo Park neighborhood of Los Angeles. It centers on a smooth-talking teen and the unlikely friendship that gets him to drop his swagger.
The festival further broadcasts the Chicano voice in its short film showcases. Its Hecho en USA screenings on March 8 and 19 will feature shorts ranging from a look at how Mexican-immigrant restaurant workers are influencing the taste of California to a diary of two boys who must decide whether they'll join a gang. The Fronteras Filmmakers session on March 14 will feature local shorts.
Borders on Film—though not exclusively for U.S. filmmakers—will screen shorts that try to unpack what it means to live near and interact with international borders. The discussion continues with the feature-length documentary "Reportero" by binational director Bernardo Ruiz. The film follows a veteran reporter and his colleagues at Tijuana-based newspaper ZETA as they grapple with reporting on a drug war that has already killed several journalists.
This year's focus on U.S. voices doesn't limit the diversity and breadth the festival has become known for. More than 160 films will be shown in categories including queer cinema, Jewish-Latino film, Chilean directors and family-friendly animation. Standouts include a Latino zombie flick ("Juan of the Dead"), a documentary about African refugees in Cuba ("El Maestro Saharaui"), a Jewish-Latino wedding comedy ("Mi Primera Boda"), a documentary about a prison beauty pageant ("Captive Beauty"), and a 3D documentary illustrated by its youth subjects ("Pequeñas Voces").
Tickets and packages can be purchased online and at UltraStar Mission Valley Cinemas. Click here for more information and showtimes.
[Disclosure: I co-produced a film that will show in the Fronteras Filmmakers screening.]
Mosquita y Mari
March 12, 5:30 p.m. 
March 18, 7:30 p.m.
A budding friendship between two Chicana high school students in the Huntington Park district of Los Angeles offers the chance for first-time director Aurora Guerrero to explore the complexities of modern adolescent life. Yolanda is a star student whose only wish in life is to make her family proud, while Mari has just moved to town with her undocumented family. Together, the two form a bond that both confuses and delights them in equal measure. This fresh high school drama premiered at the 2012 Sundance Film Festival.
Mamitas
March 8, 5:30 p.m.
March 10, 10:15 p.m.
March 17, 8:30 p.m. 
When cool guy Jordin gets suspended from school for insulting a teacher, his charming and cocky facade is brought into question by Felipa, a smart and serious-minded fellow student who can't stand his outlandish swagger. After an antagonistic introduction, the two form an unlikely friendship that forces each to question their preconceived notions about adolescence, social standing and impending adulthood. Directed by first-time filmmaker Nicholas Ozeki and filmed on location in Echo Park, Calif., this coming-of-age romance announces the arrival of major new talents, both in front of and behind the camera. Co-starring Jose Yenque (Miss Bala).
Reportero
March 18, 3 p.m. 
In this special advance screening, director Bernardo Ruíz documents a veteran reporter and his colleagues at ZETA, a Tijuana-based newspaper, as they ply their trade in what has become one of the deadliest places in the world to be a journalist. In Mexico, more than 40 journalists have been murdered or have gone missing since 2006. As a result, many mainstream media outlets in Mexico have had their drug war coverage silenced, either through threats or bribes. This extraordinary film offers insight into the courageous reporteros who, despite the many risks, refuse to stay quiet.
Juan of the Dead
March 17, 8 p.m.
March 18, 9:30 p.m.
A massive zombie outbreak send Havana, Cuba into chaos. Juan and his motley crew of deadbeat friends are forced to engage in some revolutionary acts of capitalism in order to survive. Mixing classic horror and political commentary, "Juan of the Dead" plays like a potent Cuban cocktail made up of equal parts "Night of the Living Dead" and "Shaun of the Dead."
El Maestro Saharaui
March 10, 5:30 p.m. 
For more than thirty years, tens of thousands of Sahrawi (Arab people from the Sahara) have lived in makeshift camps as refugees in the Algerian desert. Because of this situation, children are forced to travel to far-away countries to study. One of the countries that harbor them is Cuba, where many young Sahrawi remain for twelve years while they complete their education. Nicolás Muñóz's trains this camera on this fascinating cultural exchange and chronicles the family ties that are inevitably broken, as well as the new relationships that are forged.
Mi Primera Boda
March 8, 8:30 p.m.
March 18, 12 p.m. 
Jewish-born but now secular Adrián and Catholic-born but now quasi-secular Leonora have finally reached their wedding day. Instead of gracefully embracing matrimony, Adrián spends the hours leading up to the ceremony trying to postpone it, not because he has cold feet (or does he?), but because he's clumsily lost both his and his bride-to-be's sacred wedding rings. Disaster ensues in director Ariel Winograd's winning comedy about the politics of the proverbial "Big Day."
Captive Beauty
March 11, 8 p.m. 
March 18, 3:30 p.m.
Jailed for murder, kidnapping, revolution and con-artistry, four female inmates are brought together by a beauty pageant held inside a prison in Medellín, Colombia. The week-long pageant transforms the prison into colorful and controlled mayhem through which the filmmaker explores the contestants' brutal and tragic pasts.
Pequeñas Voces
March 9, 5:30 p.m. 
March 17, 2:30 p.m.
Winner of the Best Documentary Award at the Cartagena Film Festival, Eduardo Carrillo's animated, 3D documentary tells the true stories of four Colombian children who have seen their lives disrupted by the violence long conflicts in Colombia. He uses the voices and paintings of the displaced children as the base for his animation. Powerful and compelling, Carrillo manages to enter deeply into the unfortunate world of these kids without contaminating their version of events. Not suitable for children under 13.