By Megan Burks
California's redevelopment agencies–the city and regional groups that planned and paid for urban renewal–had to pack up their desks Feb. 1. With the state budget squeezed, Gov. Jerry Brown and state lawmakers plan to distribute their funding to schools and social services instead.
That money is what helped nonprofits and planners in City Heights raise landmark projects such as the urban village and its library, police substation and recreation center. Such projects have been credited with spurring a neighborhood renaissance, giving residents a place to come together and become involved in community decision-making.
Now, with their main vehicle for development–especially affordable housing–stalled, many in City Heights worry whether the momentum they've built will go in vain. Will building (and social change) keep pace or will improvements recede into the the neglected streets and crumbling apartment buildings that remain?
In the short term, City Heights can expect the former. It seems the city was successful in safeguarding billions of dollars for planned developments. U-T San Diego reports those projects haven't been contested by the state–yet. And the city, which is overseeing the dissolution of San Diego's redevelopment agency, approved last week $213 million in post-redevelopment spending through June. That includes spending on the historic restoration of City Heights' Silverado Ballroom.
But what residents can expect for the long term is a bit foggier. State and local lawmakers are going to have to get creative and find new, stable funding for necessities like affordable housing and infrastructure and find innovative ways to spark economic development in tired communities.
So we asked some potential local lawmakers what they have in mind for future redevelopment. We asked District 9 candidates Mateo Camarillo and Councilwoman Marti Emerald: What will you do to make sure urban renewal and development keep pace in City Heights now that the state has dissolved redevelopment agencies?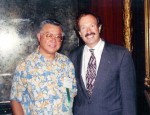 Camarillo and Greenlining Institute General Counsel Bob Gnaizda | Credit: Camarillo
Mateo Camarillo
Businessman and activist
The dissolving of redevelopment is a wake up call for City Council representatives. This situation requires leadership. The elected Council representative needs to be more engaged in meeting the social and economic needs of neighborhoods that are blighted and economically distressed.
The current funds available including bond money should be spent wisely and targeted to the neediest communities like the recommended $213.3 million for post-redevelopment revitalization in North Park.
I would also insist that Community Development Block Grants (CDBG) be used as intended by law, to target the neediest communities. Furthermore, I would insure that banks annually report their banking activity in low and moderate zip codes as required by law, the Community Reinvestment Act (CRA) to insure that red lining is not used as has been the historic practice in communities such as City Heights.
How do you hold lending institutions accountable in the absence of current performance data? How will the new City Oversight Board be held accountable? What are current Council representatives doing to have a transparent process?
There is little discussion or disclosure on this Oversight Board.
As a reward for best banking practices, I would have language in bidding documents for doing business with the City. Banks with the best CRA scores be given preference points.
At the neighborhood level, I would keep the Project Area Committees (PACs) in place to have organized community advice and community accountability for the development of the local neighborhoods. I would insure that Block Grant funding returned to its original purpose: a fair share fund available to the neediest neighborhoods and communities, not a slush fund for politicians to reward friends.
I would hold banks accountable for their funding practices and require that CRA principles are met including annual reporting of loans made by census tracts and zip codes for accountability, something the City of San Diego is no longer doing. I would also continue consulting with community leaders and organizations such as the Greenlining Institute, the premier community based organization in California representing underserved communities such as several in City Heights.
En Español: La disolucion del proyecto de reurbanizacion es una llamada de alerta para todos los representantes del Consejo de la Ciudad. Esta situacion require liderazgo. El que resulte elegido necesita estar mas comprometido en satisfacer las necesidades sociales y economicas de las comunidades arruinadas o con problemas economicos.
El presupuesto actual, -dinero de bonos incluido- debera ser gastado con sabiduria y asignado a las comunidades mas necesitadas, como por ejemplo,  el recomendado de $213,3 millones de dolares para el proyecto de revitalizacion posterior a la reurbanizacion, en North Park.
Tambien insisto que los fondos de Community Development Block Grant (CDBG) deben ser usados como lo sugiere la ley, para ayudar a las comunidades mas necesitadas. Asi mismo, aseguraria que los bancos hagan un reporte annual, en ciertos codigos postales, de bajo y mediano nivel, tal como lo require la ley (El Acta de Reinversion Comunitaria(CRA), para asegurar que la practica tan comun en City Heights, de Red lining, se deje de usar y usar greenlining para benificiar las comunidades.
Como podemos acusar a los bancos de malos manejos si no hay informacion actualizada al respecto? Como puede el Comite de supervision de la Ciudad, funcionar y a la vez ser responsable? Que estan haciendo los Representantes actuales, para tener un proceso transparente?
Hay muy poco debate, discussion o declaracion de este Comite de Supervision.
Como un premio para las mejores practicas de los bancos, si lo hacen con la Ciudad, yo agregaria algo en el escrito de negociacion a a favor de esta practica.
Los bancos con los mejores, Community Reinvestment Act  (CRA),  tendrian puntos preferenciales.
A nivel de comunidad consevaria los comites de Proyectos de Area (PACs) para asi tener el consejo de la comunidad y responsabilidad para el desarrollo de las comunidades locales y me aseguraria que financiamiento de- Block Grant- ( CDBG), regresara a su proposito original: Una distribucion justa de fondos, a las comunidades mas necesitadas "y no como fondo que usen los politicos para soborno a sus amistades."
Mantendria responsables a los bancos en sus practicas de financiamiento, y requeriria que los principios de CRA se lleven a cabo, incluyendo un reporte anual de prestamos hechos por zonas de Censo, algo que la Ciudad de San Diego no lleva a cabo mas, ademas seguiria consultandod con Lideres Comunitarios y Organizaciones como el Instituto Greenlining, la organizacion mas sobresaliente en prestar servicios a las comunidades como City Hights.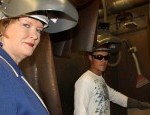 Emerald and an Ironworker Apprentice | Credit: Abigail Santos
Marti Emerald
District 7 Councilwoman
Since the State Supreme Court and the Legislature shut down redevelopment (agencies) in California, the San Diego City Council has been wearing an extra hat as the Board of Directors for the new "Successor Agency" for Redevelopment.  Our mission is to wrap up redevelopment projects that we are obligated to pay for and build.
Just this past week the Council approved a list of redevelopment projects we consider to be enforceable obligations.  In other words, these are projects we are committed financially or legally to complete.  There are scores of these redevelopment projects all over the city, including City Heights.
Projects include: $6.5 Billion in bond and other loan payments for projects, contracts with developers to build affordable housing, neighborhood improvements and vital infrastructure. This list must ultimately be approved by the state.
One of my goals as your City Councilmember is to make sure we get our fair share of projects and dollars to complete them.  This is where my experience on the City Council will be an advantage for our new District 9, especially with its many redevelopment areas.
I will also be working closely with a consortium of non-profit groups including Price Charities, United Way and the San Diego Foundation, to create new initiatives in City Heights aimed at building a new support system and safety net for our children, families and schools.
Additionally, I am now in the process of creating a working group to explore options for creating new economic opportunities and jobs in our Mid-City neighborhoods.  We intend to tap government and private resources to promote new investments in business, housing and education.
These are challenging times. But I'm an optimist. I truly believe when one door closes another one opens.
En Español: Ya que la Corte Suprema del Estado y la Legislatura han cerraron por completo organismos de reurbanización en California, el Concejo de San Diego sirve como el Directorio del nuevo organismo sucesor al Organismo de Reurbanización de San Diego. Nuestra misión es cumplir los proyectos en que tenemos obligaciones financieras, y cuyas construcciones debemos terminar.
La semana pasada, el Concejo aprobó una colección de proyectos de reurbanización que consideramos como obligaciones que se puede hacer cumplir. Estos son proyectos a cuyas finalizaciones somos comprometidos por maneras legales y financieras. Estos varios proyectos están en todos partes de la ciudad, incluyendo City Heights.
Proyectos incluyen: $6.5 mil millones en pagos por bonos y préstamos, contratos con promotoras para construir vivienda asequible, hacer reformas en los barrios, y mantener infraestructura. Esta lista de proyectos últimamente tiene que ser aprobado por el estado.
Una de mis metas en mi capacidad como su concejala es asegurar que recibimos nuestro reparto justa de proyectos y dólares para cumplirlas. En esta ocupación, mi experiencia en el Concejo será una ventaja para nuestro nuevo Noveno Distrito, especialmente porque el distrito contiene varias áreas de reurbanización.
También trabajaré en estrecha colaboración con un consorcio de organizaciones sin ánimo de lucro, incluyendo Price Charities, UnitedWay y San Diego Foundation para crear nuevas iniciativas en City Heights destinadas a la construcción de un nuevo sistema de apoyo y una red de seguridad para nuestros hijos, familias y escuelas.
Ya estoy organizando un grupo de trabajo destinado a explorar opciones para crear nuevas oportunidades económicas y puestas de empleo en nuestros barrios de Mid City. Tenemos la intención de colaborar con el gobierno y con organizaciones privadas para promocionar nuevas inversiones en negocios, vivienda, y la educación.
Estos son tiempos difíciles, pero yo soy optimista. Creo que cuando una puerta cierre, otra puerta abre.
Miss our previous Q&As with the candidates? Find out what they have to say about engaging the community's Latino population and building trust between police and immigrants.