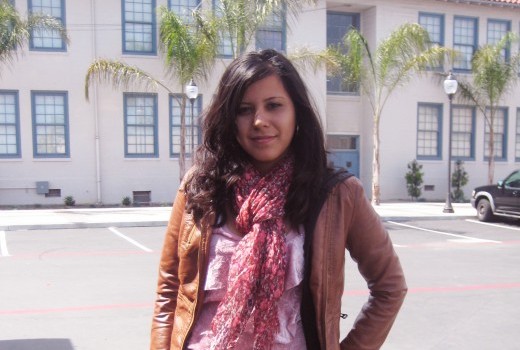 Photo Courtesy of City Heights Life
By Ashley Quintero, Hoover High School

Hoover High School senior Itza Perez is an exceptional student who puts the needs of others before her own and was recognized for her efforts when she won last year's Principal's Award.
Perez is the president and founder of Hoover Dreamers, a club for immigrants who have been enrolled in a California high school for three or more years and are intend to establish legal residency. Inspired by the Dream Act, the club's purpose is to supply resources to so-called AB 540 students who wish to pursue higher education. Perez also works to unite other "dreamers" while helping them find resources to get into college.
"I want to show them that they are not alone," Perez said.
In fact, some 48 percent of students at Hoover are refugees or fall under AB 540 guidelines, according to Perez's research.
"A lot of students are scared they are going to be judged so they isolate themselves," Perez said. "With the Hoover Dreamers, I want to show them that there are people willing to help and that they should not be afraid to ask."
Perez, who plans to continue working with Hoover Dreamers regularly after she graduates, said her passion has long been helping others. She is involved in more than Hoover Dreamers and the cause of AB 540 students.
Perez founded Cardinal Leaders, a group of students who work with administrators to help improve the campus and provide input on school activities and programs. She also is co-president of Link Crew, an organization aimed at getting seniors to mentor underclassmen, and she is part of a dance group at transcenDANCE, a dance studio in City Heights.
In addition, Perez mentors younger students at Cherokee Point Elementary on how to become leaders in the future. And she is part of Youth Voice, an organization tied into law enforcement that deals with social issues in the community.
Those who know her know that Perez will not let anything stand in the way of getting a good education. Despite her busy schedule, she maintains a 3.51 GPA.
Perez has been accepted into San Diego State University, and she is still waiting to hear from UC Riverside, UC Irvine, UCLA, CSU San Marcos, University of San Diego and Pepperdine University.
"People told me I couldn't go to college, so now I'm proving them wrong because I know I can," she said. "My dream is to go to school, and as long as I'm learning it doesn't matter which school I go to."