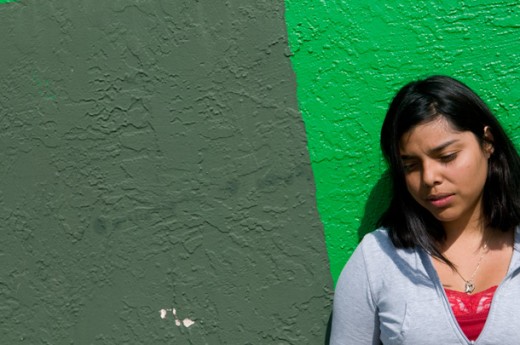 Police picked up Jobana Castellon during a curfew sweep in 2009. She said she was just walking home from an event designed to develop leadership skills in the Latino community. | Photo Credit: Sam Hodgson
By Keegan Kyle


The San Diego Police Department has begun compiling thousands of documents in an effort to better understand its curfew sweeps, a major initiative aimed at cutting crime among kids younger than 18.
But this new effort still won't an answer a major question about the program's overall effectiveness. Police won't know whether the sweeps have deterred kids from breaking curfew or other laws again, because they haven't examined that information.
Police say the documents they are compiling describe how many kids arrested during the sweeps have completed crime diversion classes, which some minors can take to erase the curfew arrest from their record and avoid paying a fine.
The classes have been a core reason why many support the sweeps, used regularly in City Heights, southeastern San Diego and pockets of downtown. The program doesn't just funnel kids into the criminal justice system, police say, but aims to teach them why they shouldn't break the law again.
Police began conducting the sweeps nearly four years ago, and the lack of records underscores how little they have examined their high-profile program to date. While promoting its value to the community, they've relied instead on anecdotes and isolated statistics to justify the sweeps.
They've touted arresting suspected gang members, connecting sex trafficking victims with social services and reuniting runaways with their families. Citing these anecdotes and others, police say they know the sweeps are already effective at reducing crime.
"We have absolutely no doubt," spokeswoman Lt. Andra Brown said in a recent interview.
Police have collected stockpiles of documents on their arrests and how the kids have been punished over the years, but haven't taken the next step to figure out if those kids re-offend.