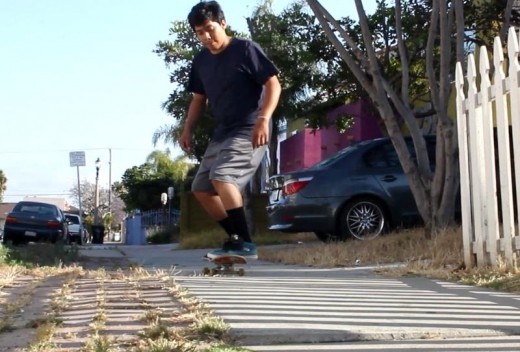 Photo Courtesy of Mid-City CAN
By Marcos Olascoaga, Mid-City CAN Youth Council
Marcos Olascoaga is a City Heights resident and is involved with the Mid-City CAN Youth Council. To contact the youth council, call Mark Tran at 619-283-9624 x249.
Haga click aquí para leerlo la en Español
My name is Marcos Olascoaga. I am 18 years old.
As part of the Mid-City Community Advocacy Network Youth Council, we have taken the initiative of making a skate park here in City Heights for everyone to be able to exercise. I just want to create a safe space for everyone in City Heights to go and skate.
The skate park is an important issue because a year and a half ago I was hit by an SUV while riding my skateboard. I was riding down the sidewalk, and this guy was coming out of a driveway. And I was hit.
He hit me hard on my left hip, and it just flew me on to the street and the sidewalk. It hit me pretty hard. I started bleeding on my arm. I had a little bruise on my hip. This lady got out of her car on the street and helped pick me up.
Members of the Mid-City CAN youth council ask skaters and other residents what they think of bringing a skatepark to City Heights.

I was kind of like out of if at the moment, so I actually just skated back home – injured. I told my mom what happened, and she was scared. My sister started crying. She took me to the emergency room right away to get me checked out. Luckily, nothing was broken and I had no internal injuries. But I still have a scar on my hip and a scar on my arm, as well.
It was kind of like a moment of realization of what actually happened two days after. Then I realized what I really wanted to do – get a safe place, a safe skate park for people here in City Heights. As part of the Mid-City CAN Youth Council, I took action.
I asked the Youth Council to create a plan: Whom should we ask? How can we get funded? Who may be our opponents? As well as what areas we should put the skate park in and a timeframe, as well.
With the Mid-City CAN Youth Council, I am not alone.
Recently we had the District 9 Forum, which included San Diego City Council candidates Marti Emerald and Mateo Camarillo. We asked them questions that focused on youth issues as well as the skate park in City Heights. They showed a lot of support on getting a skate park here.
To make sure the candidates were actually with us and not just saying stuff to make us happy, we made them sign a pledge to support having a skate park in City Heights.
The current San Diego City Councilmember District 3 representative, Todd Gloria, is in full support of the skate park and in full support of the youth.
This whole year we have worked on getting a skate park – from just ideas to getting a plan ready. There is money out for a skate park and all we have to do is fight for it.
Haga click aquí para leerlo la en Español