By Megan Burks
More School Districts Ditching the Yellow Bus for Public Transit
HealthyCal.org reported this week school districts in the Central Valley are asking students to turn to city buses to get to and from school.
Budget constraints have forced Merced Unified High School District to slash three-quarters of its school bus routes. The only remaining routes are for kids who live outside of a five-mile radius of their school or have no access to public transit routes.
The regional planning board has responded to the cuts with one of its own: a 50 percent discount on semester bus passes for high school students.
In San Diego, discounted youth passes already exist. But with yellow buses disappearing here, too, students in City Heights are calling for more. A Mid-City CAN group called Improving Transportation in City Heights has been talking with local decision makers about providing free transit passes for students.
Councilwoman Marti Emerald and mayoral candidate Bob Filner have said they'll fight for the passes. Councilman Todd Gloria said improving financial access to transit is a priority but should be done in a way that's sustainable and fiscally sound.
Follow HealthyCal.org @HealthyCal.
Media Arts Center's Alley Redo Nominated for an Orchid Award
Speak City Heights partner Media Arts Center San Diego has been nominated for an Orchid award. The San Diego Architectural Foundation's annual Orchids and Onions awards highlight the community's best and worst urban planning and design.
The Media Art Center's recent alley renovation—complete with theater seating, a wall to screen movies on, a colorful mural and shade from a repurposed parachute—is in the running to be called one of San Diego's best designs. It was created by a group of volunteers over two days, with support from Qualcomm and the El Cajon Boulevard Business Improvement Association.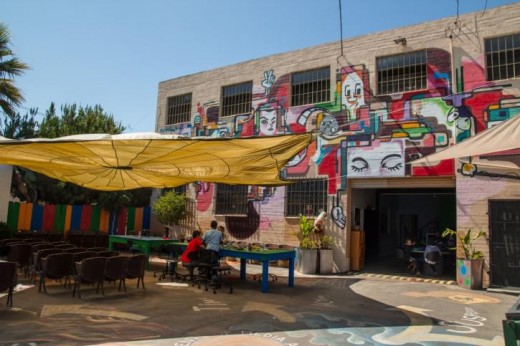 Previous winners include the New Roots Community Farm and Euclid Tower. Nominations continue through Aug. 15. Winners will be announced in the fall.
Follow the Media Arts Center San Diego @macsd.
City Heights Skatepark a Half-pipe Dream, For Now
Anna Daniels of San Diego Free Press did a nice write-up on the efforts of City Heights youth to get a skatepark built in their neighborhood. She notes each step of the journey so far—from a failed effort to get Price Charities to build a park on the old Pearson Ford lot, to lobbying efforts at city council meetings, to current video and media campaigns created by the youth.
So far, those efforts have secured space for a small skateboarding area on Central Avenue. They've also spurred discussions about where to install a full-size skatepark—the youth have their eyes on Colina del Sol Park.
Daniels dug up a video on City Heights skaters I produced with Robert Knauf for HealthyCal.org in 2010. As one of my first forays into City Heights reporting, it remains one of my favorite projects. You can watch it below.
Find all of our skatepark coverage here.
Follow San Diego Free Press @SDFreePressorg.
More Things I Tweeted