Community organizers in City Heights have sought sidewalk improvements as a means to improve safety for pedestrians. Now, some are also trying to improve walkability to boost profits for local business owners. Research has shown even relatively quick fixes such as planting trees in empty planter boxes increase what customers are willing to pay by 12 percent. | Video Credit: Brian Myers, Media Arts Center San Diego
By Megan Burks
Haga clic aquí para leerlo en Español
At 3 p.m. on a Wednesday, the dining room of Hoai Hue Vietnamese restaurant in City Heights is busier than one might expect. Cooks shuffle in the kitchen preparing dishes from central Vietnam as groups chatter over a television playing Vietnamese music videos.
Hiep Diep, 26, whose family owns the place, says business has remained steady throughout its 18 years because of its proximity to residential blocks that have housed Vietnamese refugees since the 1980s. And it's been successful attracting Vietnamese diners from other parts of San Diego thanks to word-of-mouth advertising in the Asian community.
But Diep said the restaurant hasn't drawn many customers from outside of the Vietnamese diaspora. And its business district, Little Saigon, has been fairly slow to pick up popularity akin to what other cultural centers like Little Italy enjoy. The cluster of more than 100 Vietnamese-owned businesses along El Cajon Boulevard serves plenty of local families, but isn't yet a common destination for trend-setting consumers with disposable incomes.
District supporters say the issue—and solution—is street level…literally.
A growing body of research suggests improving sidewalks and crosswalks can significantly boost profits. The idea seems obvious: make businesses easier and more pleasant to get to and customers will show up, cash in hand. But the return on investment is stunning.
Business owners in the Bird Rock neighborhood of La Jolla saw a 24 percent increase in sales within a year of new sidewalks, bike lanes and traffic-calming roundabouts going in, according WalkSanDiego Executive Director Jim Stone.
Even quick fixes like utilizing empty sidewalk planters can have a big impact. Consumers are willing to pay up to 12 percent higher for goods and services when business districts have trees, according to a University of Washington study published in the Journal of Forestry.
Diep said he knows the difference a tree can make firsthand. The tree in front of his restaurant's old location was ripped out shortly before the he and his family moved.
"It actually hurt our business because it didn't look as appealing to the outside public. It created an industrial look when what you want is a friendly, inviting area like a park," Diep said, adding that the planter was never filled in, creating a hazard for customers.
Outside of his current location, tree branches shake with each passing car, most far exceeding the 35-mph speed limit. Diep said the new location is much better, but that there is room for improvement.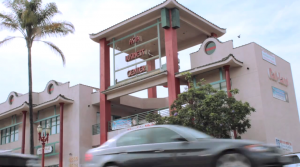 Cars speed past Hoai Hue restaurant. | Photo Credit: Brian Myers
"This is a very busy street, and for any busy street, you need infrastructure that promotes safety and movement," Diep said.
The quick-moving, four-lane thoroughfare doesn't quite lend itself to leisurely window-shopping. Cars pull in and out of small parking lots and craggy alleyways every 20 feet or so. Trying to cross lanes of traffic at most corners would be a "suicide attempt," Stone said.
Farther west, new business owner Daniel Holcomb calls the boulevard an "in-city freeway."
Holcomb opened the Coffee & Tea Collective on El Cajon Boulevard and 30th Street a few months ago. Packages of coffee beans roasted in-house sit on whitewashed walls next to artisan leather goods and pieces by local artists.
A young, spendthrift customer base is almost a given for Holcomb, who built a following in San Diego's arts scene before opening a storefront. And his trendy North Park address helps, even if it's situated on the fringe.
But Holcomb is learning those ground level issues stalling growth in Little Saigon could make all the difference for him, too.
"I find that a lot of people will drive right on by our shop even though we have a pretty large sign that says 'coffee,'" Holcomb said. "Businesses that aren't on a stop light often have trouble. If people are on the other side of the street, how do they get over here?"
Holcomb said he still relies mostly on customers who drive from other areas and park out front. He said he hasn't been able to expand onto the sidewalk in a way that might catch locals' attentions.
"Outside here we have a very sloped, cracked sidewalk," Holcomb said. "It makes it hard as we're looking to do outdoor seating. The condition of the sidewalk leaves a little bit to be desired."
Holcomb could soon see things smoothed out a bit. The El Cajon Boulevard Business Improvement Association has been working with an urban design consultant to develop a plan for infrastructure fixes on the west end of the boulevard. Beryl Foreman of the association said she hopes to apply for funding from the San Diego Association of Governments by the end of the year. Already, the association has installed bike corrals, new lighting and countdown crosswalk indicators.
"More and more businesses are moving in and the businesses are actually speaking out and saying that they believe the walking conditions, the infrastructure, aren't safe for their customers," Foreman said.
On Diep's end of the boulevard, the Little Saigon Foundation is seeking funding for a design plan that includes safer crosswalks and sidewalk improvements. WalkSanDiego and the City Heights Community Development Corporation are also working on securing funding for improvements along business corridors in City Heights.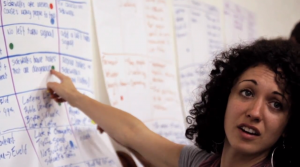 "I think that if the street was more aesthetically welcoming, more pleasing to walk up and down, people would be more likely to think of El Cajon Boulevard when they think of going to do their dry cleaning, or buy their food, or buy their mattresses or take a yoga class," says Sonia Weksler, whose family owns mattress discount store A Bedder Buy, at a WalkSanDiego workshop. | Photo Credit: Brian Myers
The groups wrapped up a series of workshops and surveys this summer that they'll use to make the case that streets matter just as much for economic development as the destinations they take us to. They plan to apply for federal Community Reinvestment Act funding, which Stone said has never been used for walkability projects before.
"Usually, CRA funding is used to help with affordable housing, but the underlying idea is you use CRA funding to overall increase the value of a particular community," Stone said. "If your property has a higher walk score, you're going to have a higher value per square foot for that property."
Stone said he is wary about pricing Diep, Holcomb and their customers out of the neighborhood with this, and similar, projects.
"The development of City Heights needs to be done very thoughtfully," Stone said. "Affordable housing needs to be a part of the mix."
A recent report from the Brookings Institution says residential rents are about $300 higher per month in walkable communities. Commercial rents can increase more than $8 per square foot per year.
It's a risk Diep is willing to take.
"This area is very rich in culture," he said. "All it needs is a little work on infrastructure and funding to make it what it should be."
Disclosure: The walkability workshops hosted by WalkSanDiego were funded by The California Endowment, which also funds Speak City Heights. Speak City Heights operates as an independent news collaborative.
Haga clic aquí para leerlo en español