By Megan Burks
Leases Set, Construction Started on San Diego's Answer to Pike Place
At press time, 961 people had signed on to help Catt White and Dale Steele bring a large-scale public market to San Diego. The pair posted the project on Kickstarter, an online platform used for crowdfunding, Aug. 8 and are nearing their goal of $92,244.
The money would go toward permitting and remodeling more than two acres of warehouses, plazas and cottage studios in Barrio Logan. The end result would be a space akin to Pike Place Market in Seattle and the Ferry Building in San Fransisco: a place for hot food vendors, farmers, artisans and restaurateurs to work and sell their wares. White and Steele said there would also be an opportunity for education on nutrition and healthy lifestyles for seniors, children and others.
White told KPBS the San Diego Public Market will begin offering traditional farmers markets on Wednesday and Sunday mornings in about three weeks. She said they'll continue remodeling and leasing to vendors until the entire facility opens in the spring.
White and Steele appeared on KPBS Evening Edition yesterday. You can watch the segment below. Their Kickstarter page is here.
Follow the San Diego Public Market @SDPublicMarket.
Struggling to Discipline and Nurture at California Schools
California Report shared the story of an 11-year-old San Francisco boy who became a poster boy for gun control last year after being caught in crossfire that left a bullet lodged in his abdomen. In February, the boy was kicked out of Bessie Carmichael Elementary School for allegedly shooting another student with a BB gun.
Although the facts are in dispute, the boy's situation illustrates the San Francisco Unified School District's haphazard struggle to fulfill complex health and safety mandates: Prevent violence, nurture victims and deal with inner-city trauma when it spills into the classroom.
While the district is responsible for keeping children safe, it's also required to address the needs of students who exhibit risky or even violent behaviors. In the case of the boy at Bessie Carmichael, it failed to do both, records and interviews show.
According to California Watch, San Francisco Unified has just 60 social workers and therapists for its 120 elementary and middle schools. The department head said that's not enough.
"Our department stance is that every school should have a full-time social worker and full-time nurse," she told California Watch.
The district's struggle is not uncommon. In City Heights, Cherokee Point Elementary School sees a counselor one day a week and a psychologist three times a week. When I highlighted how the school is reforming its discipline policy this spring, its principal told me he wasn't sure he could find the money in next year's budget to keep the counselor on board, hinting that he already acts as a counselor on most days.
He also said Cherokee Point gets by thanks to an army of counseling interns, student teachers and charity groups. That's where the solution for San Francisco Unified lies, according to Shawn Richard, founder and executive director of Brothers Against Guns.
"The school district needs to partner up with organizations that deal with these issues in the communities instead of kicking a kid out of school with no counseling or services," he told California Watch.
Follow California Watch @CaliforniaWatch.
Where Parolees Live in San Diego
Voice of San Diego's data journalist Keegan Kyle posted another map this week. This time he takes a look at where people on parole and probation live in San Diego. He focuses on the large share of former inmates living in southeastern San Diego and the disproportion between communities north and south of Interstate 8.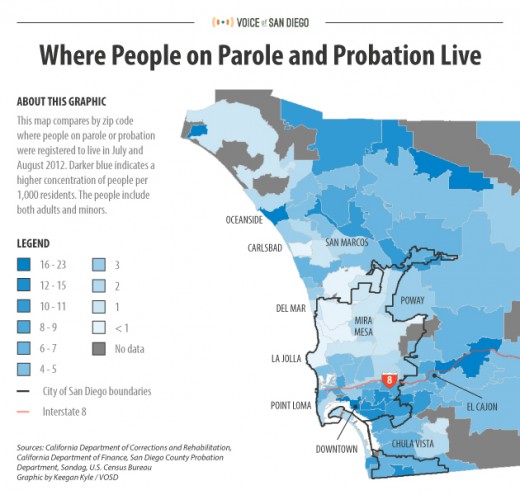 I reported on fear among City Heights residents that their community would see a large influx of former criminals under the state's prisoner realignment program, which puts state parolees under county supervision. At the time, I reported parolees are more likely to live downtown. Kyle's map shows downtown and mid-city now have similarly sized parolee populations.
It's unclear the role realignment has played here because Kyle counts former inmates at both the county and state levels. And as I noted in my previous reporting, parolees returned to the communities in which they were arrested before realignment started.
Follow Keegan Kyle @keegankyle.
More Things I Tweeted