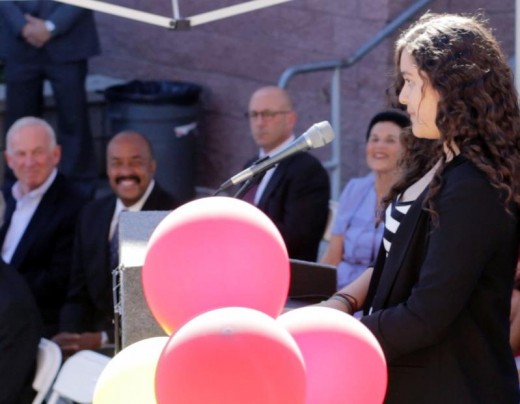 Andrea Vizcarra, a Monroe Clark Middle School student, found out about her high blood pressure because of the school's new health and wellness center. She talked about the experience at the Oct. 24 grand opening ceremony for the clinic.
By Adam Ward, Mid-City CAN

Haga clic aquí para leer en español
A 13-year-old girl embodied the transformative power of Monroe Clark Middle School's new Health and Wellness Center during an Oct. 24 celebration at the City Heights campus.
Monroe Clark student Andrea Vizcarra told the audience she learned she was suffering from high blood pressure during a recent check up at the school-based medical clinic. Had she not learned of her condition, it could have led to serious complications.
"I had to change my eating habits, get real and be on track," she said.
Vizcarra's message about her newfound knowledge was part of Monroe Clark's official opening of the community's newest health center. Among the about 300 attendees were middle school students, parents, community members, government officials and members of The California Endowment, Price Charities and Mid-City CAN.
The new health center will give Vizcarra's classmates the opportunity to become more informed and healthy. Their siblings and peers at feeder campuses Hamilton Elementary, Rowan Elementary and Florence Joyner Elementary schools will also get to access the clinic.
Principal Thomas Liberto said the center will also improve academic performance at the school of approximately 1,200 students.
"I have no doubt that with the health center in place, (attendance) is going to increase even more," Liberto said.
"Think about how much more learning occurs because, that child was in school, or didn't have an ear infection, or didn't have a toothache and could pay attention," said Tad Parzen, executive vice president of Price Charities.
Dorothy Zirkle, director of health services at Price Charities, backed their sentiment. She said attendance has improved at Central Elementary School, where a similar clinic opened two years ago.
Funding for the center came from The California Endowment and Proposition S. Price Charities provided "leadership for us, provided the steering and the vision," Liberto said. The Mid-City Community Clinic and La Maestra Community Health Centers operate the on-site health center, which has been serving students since summer.
"This school is beautiful, and this health center is beautiful," said Dr. Robert K. Ross, president and chief executive officer for The California Endowment. "And there are now probably 900 middle schools around the state that are jealous. They are going to be banging on our door because they are going to want the same thing."
Ross called the collaboration "one of the best foundation partnerships in the state, between Price Charities and The California Endowment."
San Diego Mayor Jerry Sanders was also among those at the October opening.
"The participation by the community leadership in City Heights has never wavered, and what that shows is that if you keep at it you are going to get the things you need and you deserve," he said.
It seems 13-year-old Vizcarra got what she needed.
"My next visit (to the Health and Wellness Center) a month later, I went for a checkup and they said that everything was fine," she said. Having the clinic on campus will allow her to continue getting checkups at the clinic every month to monitor the issue.
"Health is very important to me, because when I'm older I want to be a nurse," Vizcarra added.
The clinic is open from 7 a.m. to 3:30 p.m. Monday through Friday at Monroe Clark Middle School, 4388 Thorne St. For further information, call 619-563-6801, ext. 2018.
Haga clic aquí para leer en español
[Disclosure: Mid-City CAN and Speak City Heights receive funding from The California Endowment. Speak City Heights operates as an independent news collaborative. The above article appeared in City Heights Life, a monthly publication distributed by Price Charities.]