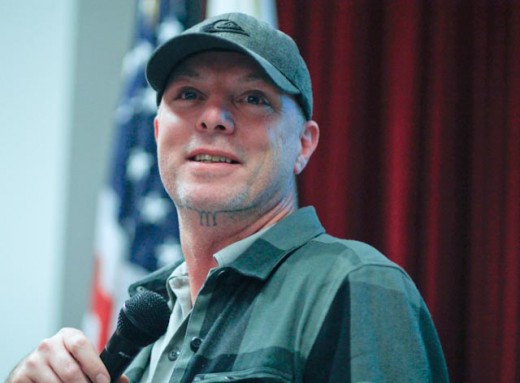 Peter Whitley, programs director for the Tony Hawk Foundation, addresses the crowd at a Dec. 6 skatepark rally. | Photo Credit: Phuc Nguyen, Mid-City CAN Youth Council
By Adam Ward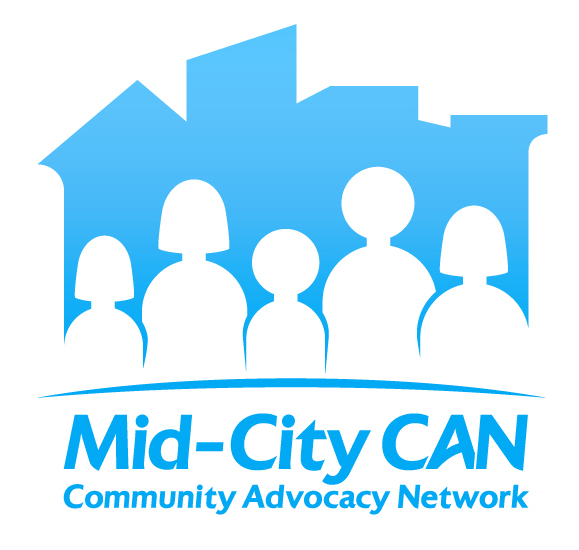 Peter Whitley, programs director at The Tony Hawk Foundation, has unique insight into skatepark advocacy. He said he logged more than 1,000 requests for skatepark consultation last year. The Tony Hawk Foundation made 500 skatepark grants in 10 years; about 420 of those parks are open, according to Whitley.
But despite all that experience, he said he never saw anything like the Mid-City CAN skatepark rally Dec. 6 at Cherokee Point Elementary School. The rally was the culmination of the Mid-City CAN Youth Council campaign to add a skatepark to City Heights, an area that is about 100 acres short of park space according to San Diego's guidelines.
"Nobody shows up for a meeting on a recreational issue like that," Whitley said, referring to the large crowd of about 300 people. Those type of crowds are unheard of in urban-planning meetings, he said.
"It doesn't happen for a stadium," he said. "It doesn't happen for softball fields or anything – swimming pools or waterslides.
"You are breaking new ground and setting precedents that the City isn't accustomed to. There is a lot of excitement there," Whitley added.
City officials may have been unaccustomed to such a high level of community engagement about a parks issue – but they certainly took notice. Newly sworn-in Mayor Bob Filner said attending the rally was one of his first official acts as mayor, and he was unswerving in his support.
"We have a budget in our City of San Diego of $3 billion," said Mayor Filner. "That's a lot of money. If we can't find the money to do this, we should pack up."
The President of San Diego Unified School District's Board of Education also committed to aid the effort.
"Know that you've got the support of the entire school district — the entire school board," said Richard Barrera. "Our schools are open to you to do your planning and your visioning. We support you 100 percent."
Godwin Higa, the principal of Cherokee Point Elementary offered his perspective about how a skatepark could give young people a healthier future.
"We've got to do something about our kids being on the streets – it is so unsafe," Higa said. "I've been working for four years – this is my fifth year – trying to get a skatepark somewhere close to this area, so it's safer for the students than riding on the streets. We want to make this happen. Please support this."
For Whitley, supporting this effort makes a lot of sense for elected officials.
Whitley explained that for skateparks, "$40 a square foot is an industry high average. So there are lots of ways to cut corners on that, in-kind donations … But essentially, if you budget in preliminarily at $40 per square foot, you are going to end up with a pretty kick-ass skate park."
That figure is from "deck to deck," Whitley said. The total would not include landscaping, benches, lighting, parking or other amenities. The city's Parks and Recreation Department has estimated an extensive public skatepark could cost more than $3 million to build.
"Given the relative inexpensiveness of skateparks, compared to anything else that the parks department wants to do with their money, they should be able to put this on a faster track," Whitley said. "I think you could probably get concrete poured in the ground by at least the end of 2013."
And Whitley said it is more than just elected officials paying attention.
"A lot is going on in Mid-City, we are really excited about this opportunity," Whitley said at the Cherokee Point skatepark rally. "Tony Hawk talks about it. All the pro-skaters that show up talk about it – it's just a matter of time."
[Disclosure: Adam Ward is a media specialist for the Mid-City Community Advocacy Network and works closely with the youth advocating for a skatepark.]