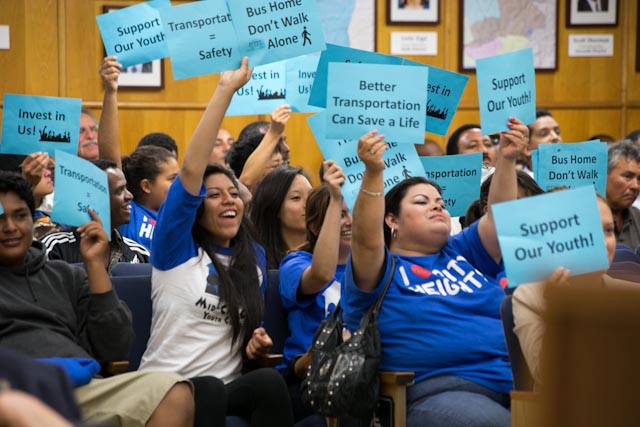 Mid-City CAN Youth Council members and supporters show their support for free student bus passes called the Youth Opportunity Pass at the City Council meeting June 10. | Photo Courtesy of Mid-City CAN.
By Bianca Bruno
The work done by City Heights advocates to access funding for their community has not been done in vain. District 9 will benefit from many new community improvements and programs the City Council approved Monday in the 2014 city budget.
Mayor Bob Filner's first budget includes funding for a pilot program that would provide free city bus passes to qualifying students at Crawford, Hoover, Lincoln and San Diego high schools. The one-time expenditure, which builds on $150,000 already approved by the San Diego Unified Board of Education, is meant to help students at risk of dropping out because they lack adequate transportation to school.
The Mid-City CAN Youth Council has lobbied heavily for the program, drawing support from many adult residents and local education and civic leaders, including District Attorney Bonnie Dumanis.
Councilwoman Marti Emerald applauded their work at Monday's meeting.
"I want to thank all the young people, specifically these young people from Mid-City CAN, who have really put their heart and soul into this campaign," Emerald said. "These are community organizers – not in the making, they're the real deal."
The budget also includes funding for a skate plaza in the pending Central Avenue Mini Park, another cause championed by City Heights youth and community leaders. The Charles Lewis Memorial Park on Home Avenue near Euclid will be installed thanks to the budget, as will streetlights in City Heights, Mt. Hope, Southcrest and Mountain View. Each branch library in the city will be open four additional hours. And the city will conduct its first comprehensive audit of sidewalks with $1 million the council added Monday.
The 2014 budget also includes funding to study the on-going problems within San Diego's taxi industry. Filner, who has expressed concern about a "black market" for taxi permits, approved $100,000 for a consultant who will explore how best to regulate the taxi industry. Following complaints from over-worked and under-paid taxi drivers, Filner has said he intends to return industry oversight to the city, taking it away from the Metropolitan Transit System (MTS).
The council passed the budget 7-2, with Councilmen Kevin Faulconer and Scott Sherman opposed. District 6 Councilwoman Lorie Zapf voted for the budget but warned about tacking on "extras."
"My concern is that we are starting to wander away from our core responsibilities – purchasing bus passes, and creating think tanks when we haven't fully restored the basics," Zapf said.
Mayor Filner still has the power of line-item veto but said in a statement, "The stability and financial security of my five-year labor deal combined with my budget focus on restoring neighborhood services, makes this the best city budget in years."
Below, City Council President Todd Gloria discusses the budget on KPBS.