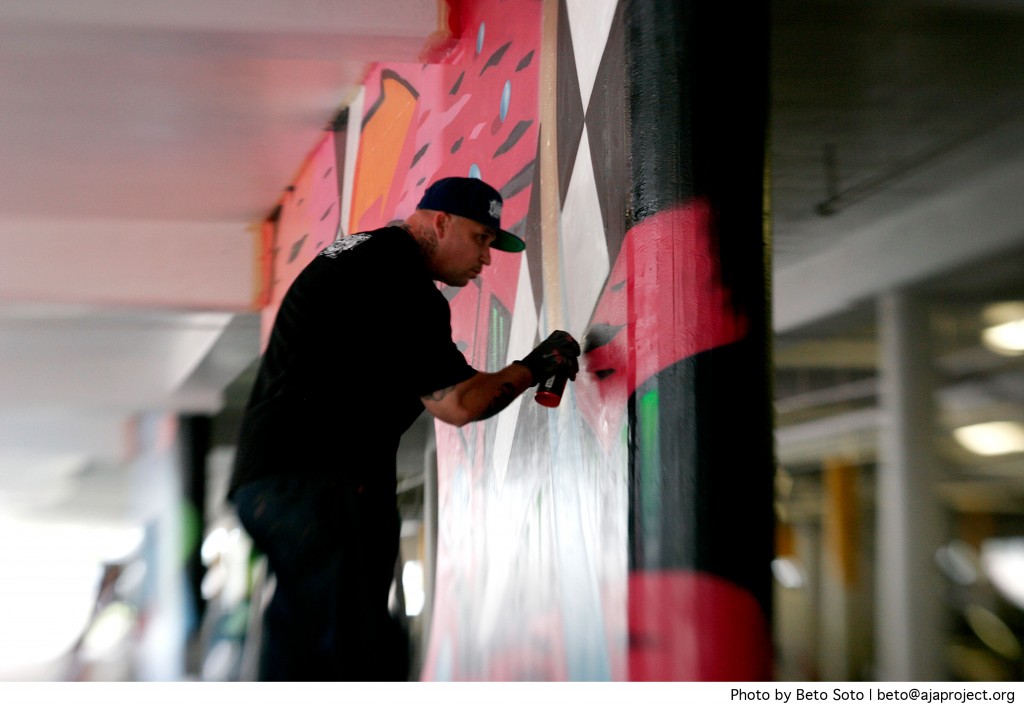 Graffiti Artist Ryan Hoppe, who goes by Hasler One, works on a collaborative mural during the Underground Art in the Underground event in the parking structure of Westfield Mission Valley Mall on March 22, 2014. The event was an initiative by the San Diego Cultural Arts Alliance, whose primary focus is to teach youth how to send positive messages through street art rather than graffiti. | Photo Credit: Beto Soto
By Karla Flores and Brent Jensen


Karla Flores and Brent Jensen are high school students and members of The AjA Project's Youth Advisory Council
How do you feel when you see vandalism around your neighborhood? Does it make you feel unsafe?
Last month, graffiti was transformed from a rebellious act of vandalism to a legal form of expression through the Graffiti Education and Mural Arts Program, an initiative by the San Diego Cultural Arts Alliance.
Between March 20 and 22, the alliance partnered with Writerz Blok to lead a mural installation project in the parking garage of Westfield Mission Valley Mall. The event, called Underground Art in the Underground, was a gift to the community of San Diego and a message to youth who see to express their individuality through graffiti.
Original artwork created by street artists Ryan Hoppe, who goes by Hasler One, and his counterpart Dyse One, in collaboration with Writerz Blok, covers more that 50 feet of wall space in the lower parking lot of the mall and is visible from Interstate 8.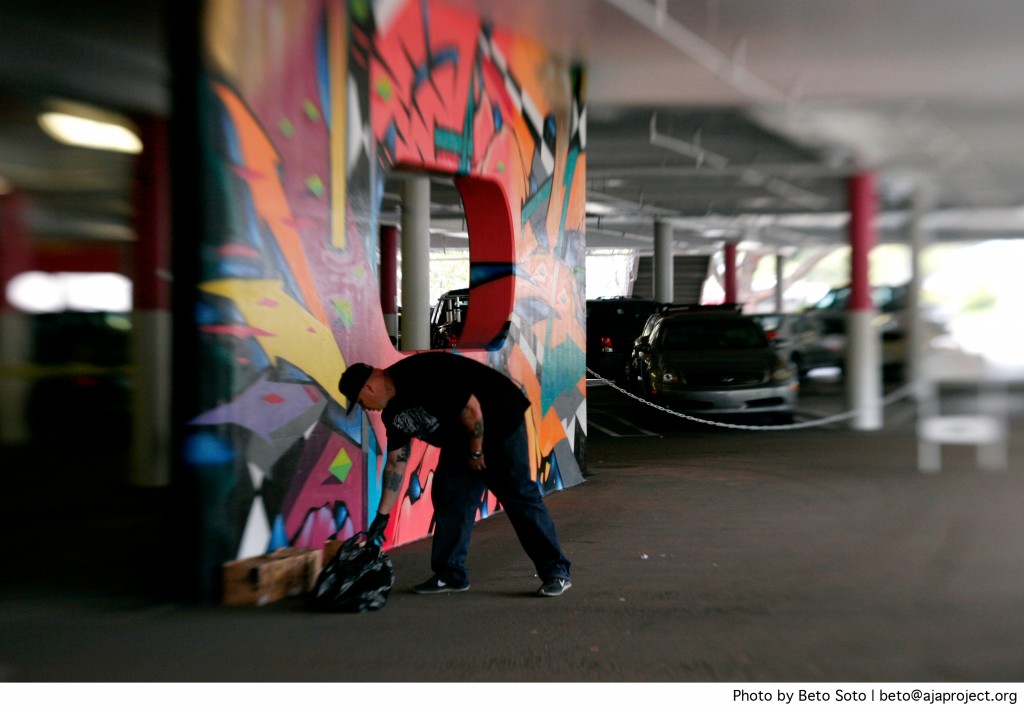 Street Artist Ryan Hoppe, also known as Hasler One, selects spray paint for the collaborative mural created as part of the Underground Art in the Underground event at Westfield Mission Valley Mall on March 22, 2014. | Photo Credit: Beto Soto
The previously grey walls communicate an artistic message to the public to be "Creative." The eight-letter word is spelled out across four sections of wall space and is colorfully camouflaged by the artists to create a positive and inspiring message to the community.
The mural by Hoppe and Dyse One, whose professional work can be found around San Diego and Chicano Park, works to shed light on the positive work Writerz Blok and other City Heights-based street art and mural arts programs are doing in the community.
"This is to create awareness in the city as far as graffiti goes. It's not always bad," Hoppe said.
"[These artists] had no outlets when they were growing up," said Sergio Gonzales, founder of Writerz Blok. "Now they have their own companies and [they are] giving back."
According to Gonzales, public murals not only increase property value, but also represent a small step toward beautification of the city.
Gonzales said his ultimate goal is "to give kids the hope and the possibilities necessary on a pathway to bigger, better lives" and "to encourage kids to cultivate their individuality while thriving in a professional world."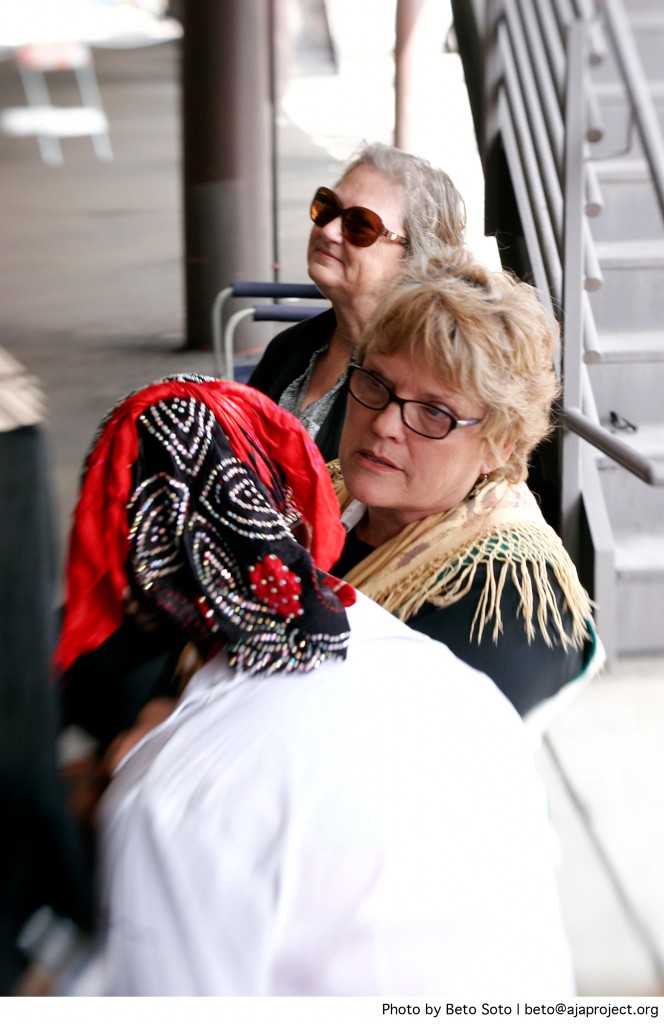 San Diego Cultural Arts Alliance CEO Linda E. Sheridan (middle) and local artist Linda Litteral (back) are interviewed by AjA Project youth reporter Famo Musa (front) at the Underground Art in the Underground event at the Westfield Mission Valley Mall on March 22, 2014. | Photo Credit: Beto Soto
Linda Sheridan, founder of San Diego Cultural Arts Alliance, also spoke about the goals of the project.
"[We are] setting examples for success through legal activity and by giving kids a chance to turn graffiti into street art," Sheridan said. "Graffiti is often part of youth's search for identity, but it must be done in a safe way."
Sheridan recently started an initiative called the Graffiti Education and Mural Arts program to teaches youth how to use street art rather than graffiti to express themselves. Sheridan said she hopes to integrate the program into city schools to inspire and educate youth and inform educators about alternative ways of artistic expression.
Two City Heights schools are currently involved in piloting portions of her curriculum to increase graffiti awareness and civic engagement through art.
Monroe Clark Middle School's PhotoCity program, run by The AjA Project, will be piloting the curriculum this spring. The school's administration approved a PhotoCity student initiative to create a art mural on their campus highlighting words and images to inspire students and faculty at the school.
"The students photographed graffiti throughout their community, which procured negative messages and impacted the students' ability to feel safe within their own neighborhoods," PhotoCity lead instructor Christina Chomut said. "Based on these images, PhotoCity students identified the need for more vibrant art to exist within their community and at their school."
Using their images the students developed a proposal to create an art mural at their school. The proposal was approved in February, giving the students the green light to move ahead with their initiative.
"We have met with both Linda Sheridan and Linda Litteral of the alliance and we are very excited to pilot portions of the Graffiti Education and Mural Arts program in the PhotoCity classroom," said Chomut. "I believe it will enhance our efforts significantly and will hopefully inform the alliance's program curriculum as our efforts continue to develop."
In addition to the Monroe Clark initiative, Crawford High School will also pilot portions of curriculum in the classroom this spring.