By Brent Jensen


Brent Jensen is a high school student and member of The AjA Project's Youth Advisory Council.
People void of a support system and unable to attain financial and emotional stability must sometimes reconcile with the reality of homelessness. The unconventional lifestyles of those who are homeless – often exhibited along neighborhood streets and alleyways – serve to detach and segregate this population from their surrounding communities. The disconnect and lack of awareness around circumstances surrounding homelessness can often reinforce public misconceptions. While it cannot be denied that some individuals within the homeless population are, in fact, suffering from varied degrees of mental illness, alcoholism and drug abuse, it is also true that the broader population of these individuals is highly intelligent, compassionate and cognizant of their own living condition.
The daily experiences of those who are homeless may seem unfamiliar, vulgar and crude. Consider how the exigencies of homelessness – such as lack of food and access to personal hygiene – make the simplest demands of life challenging and yet remain the highest priority and significance to those lacking them. Substance abuse, gang violence, poverty and displacement are some of the truths deeply embedded in the experience of homelessness.
Through my work as a photojournalist, I have found the majority of those who are homeless to be sentient bearers of incredibly complex stories, gifted also with the capacity and willingness to share such stories. Experiencing this and knowing there are undoubtedly people everywhere who believe in the validity of every person's experience, I ask you to please open your eyes and your heart to a greater compassion and understanding while allowing the stories of those who are homeless to remain intact.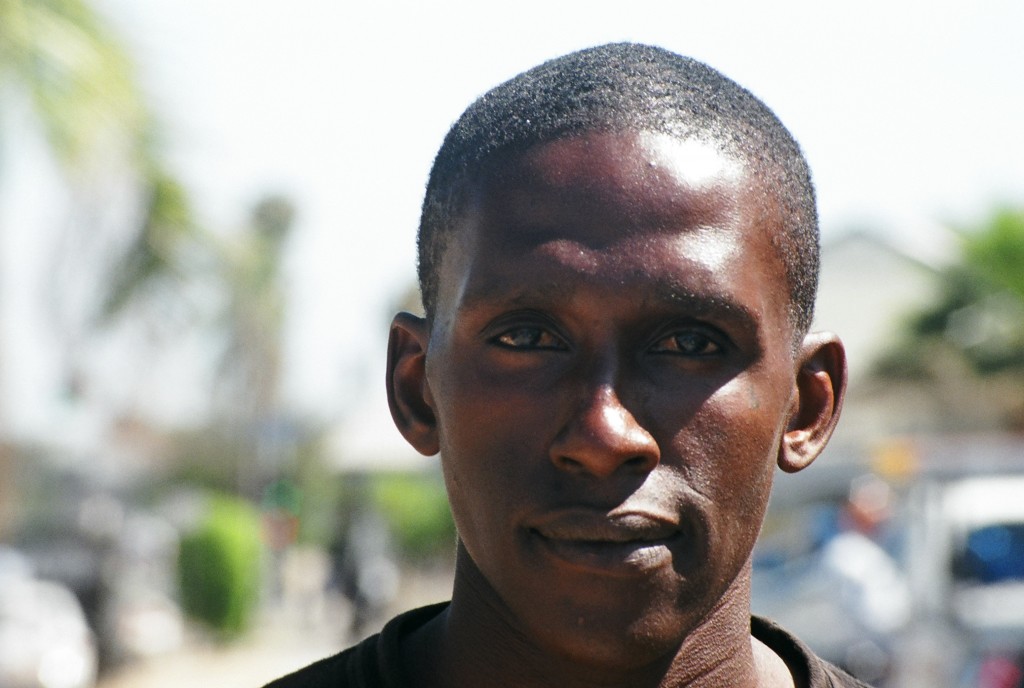 Photo Credit: Brent Jensen, The AjA Project
Idris Ali, 28, spends the day in Teralta Park playing cards with friends. When a police officer drives past, he waves and the officer waves back. "We are all friends here," says Ali, who relocated as a toddler from Somalia to Dallas with his refugee family before coming to City Heights. Members of his family now live in Canada and several states across the United States, including cousins in Missouri, Maine, Oregon and his three children in New York. Only Ali's mother and sister remain in City Heights. Ali says his life is peaceful and rejoices to be "just living life" and staying out of trouble. He says he is proud to be clean, temperate and kind.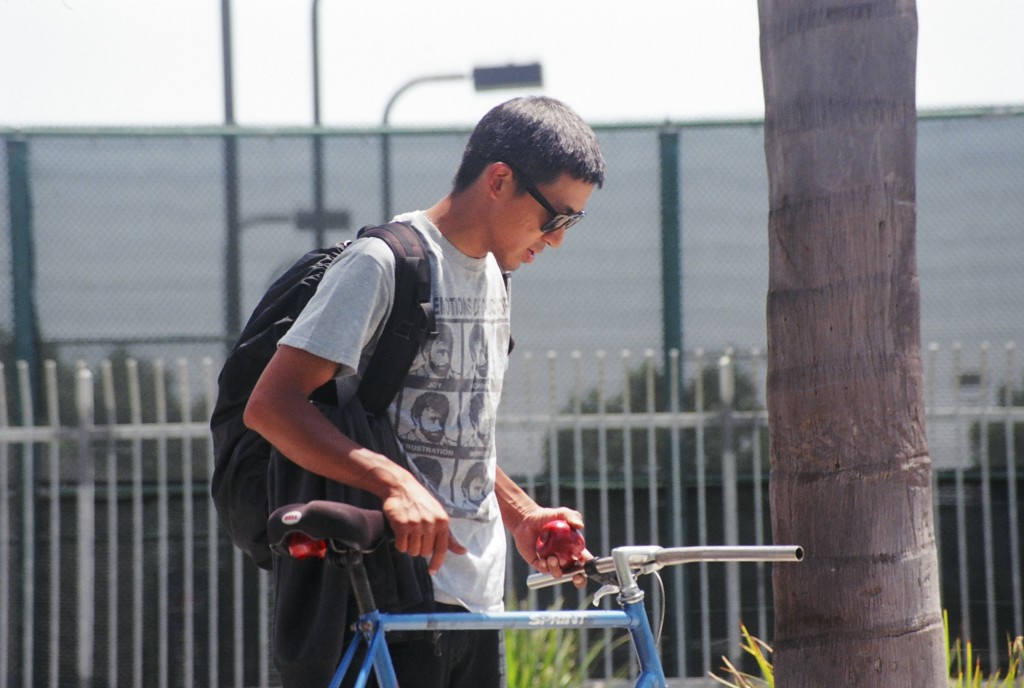 Photo Credit: Brent Jensen, The AjA Project
Like most of the homeless population in City Heights, Neil Kim – known as Juno to his friends – depends on his bicycle for transportation. He recently obtained a job at a local pawnshop and says it has improved his well-being. Kim also cites the church on 54th Street and El Cajon Boulevard in City Heights as a major source of support, although he says they offer bathing services too infrequently. Kim is an experienced mechanic and his confidence, intelligence, bicycle workmanship and resume all reflect his aptitude and abilities. A family member brought Kim, who is originally from Los Angeles, to a homeless shelter in downtown San Diego. From there, he biked to City Heights. Kim has been homeless for about four months.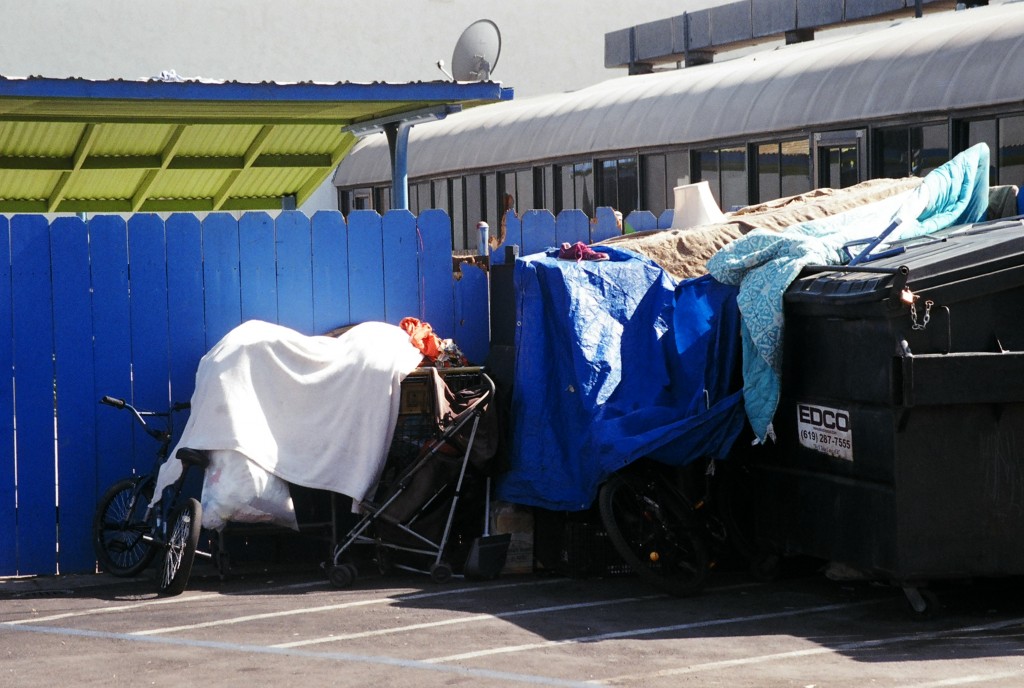 Photo Credit: Brent Jensen, The AjA Project
Charles C., 46, goes by C.C. He fashioned his campsite beside a dumpster in City Heights, keeping his essentials – toy cars and Transformers figurines – under a tarp. C.C. says drugs contributed to him living on the streets, but does not feel the lifestyle has impeded his determination to live clean, have self-respect and find his ideal self. "This is all an adventure for me," says C.C., who hopes the adventure will lead him to a better state of living.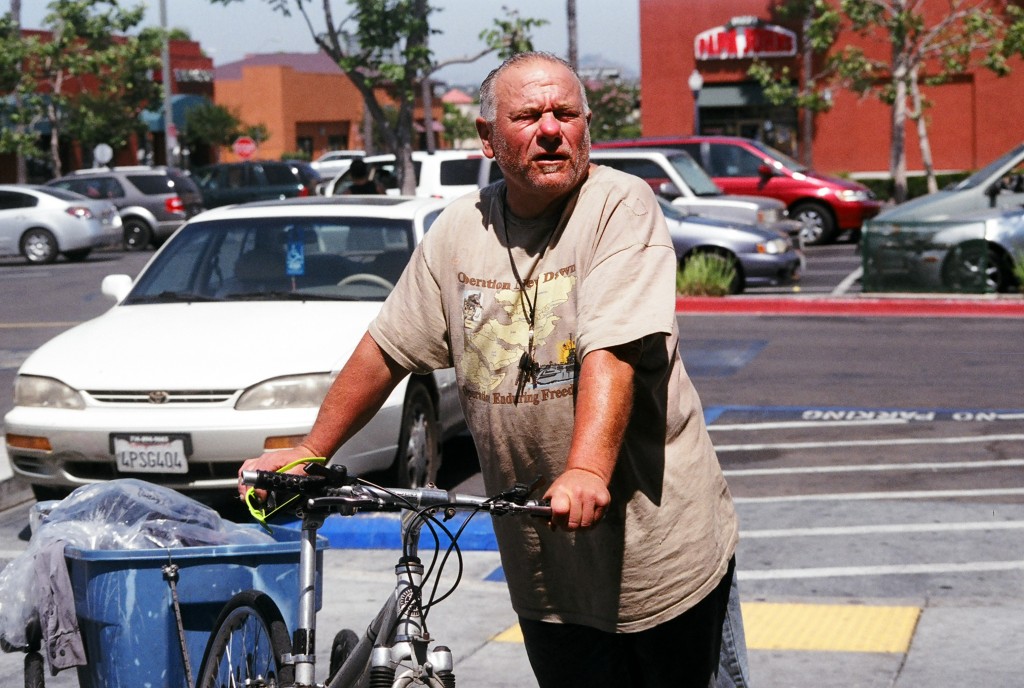 Photo Credit: Brent Jensen, The AjA Project
Larry hauls his belongings in a plastic tub on his bicycle. "Be careful who you trust," is Larry's advice. Larry says he has been robbed of his things so often he cannot help being wary of his friends. Larry aspires to film a documentary or a video diary of his experiences and interactions living on the streets.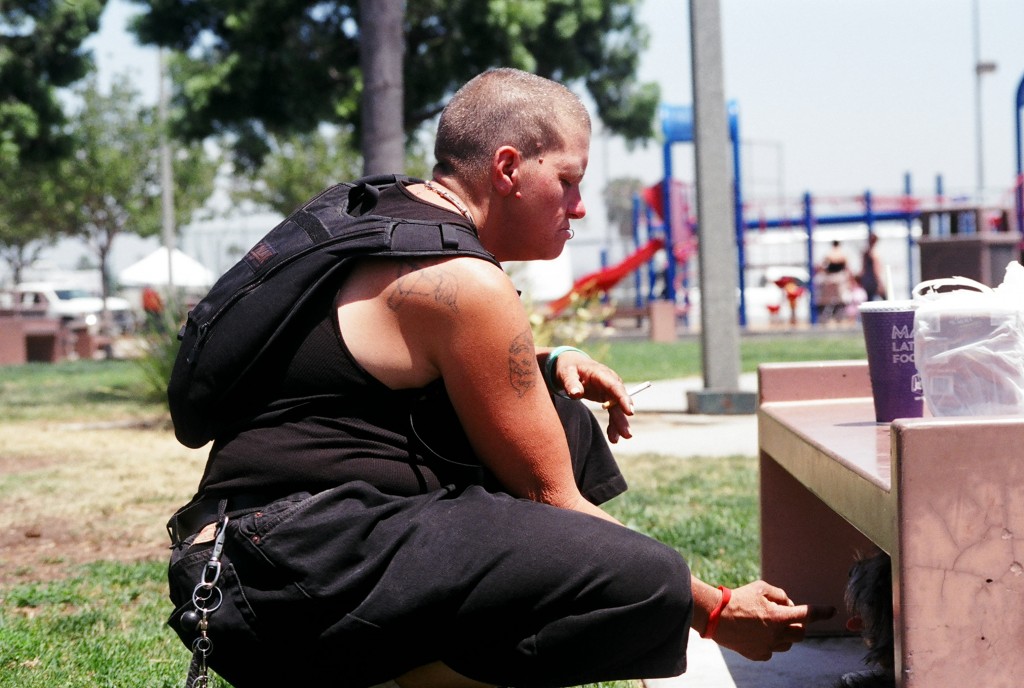 Photo Credit: Brent Jensen, The AjA Project
Patti shows compassion for a dog, tired and spread over concrete in the hot sun. With a bad leg, Patti cannot volunteer as she used to at the City Heights Recreation Center. She faces threats of idleness everyday. "I'm just out here getting tan," Patti said while passing time at the park on Fairmount Avenue.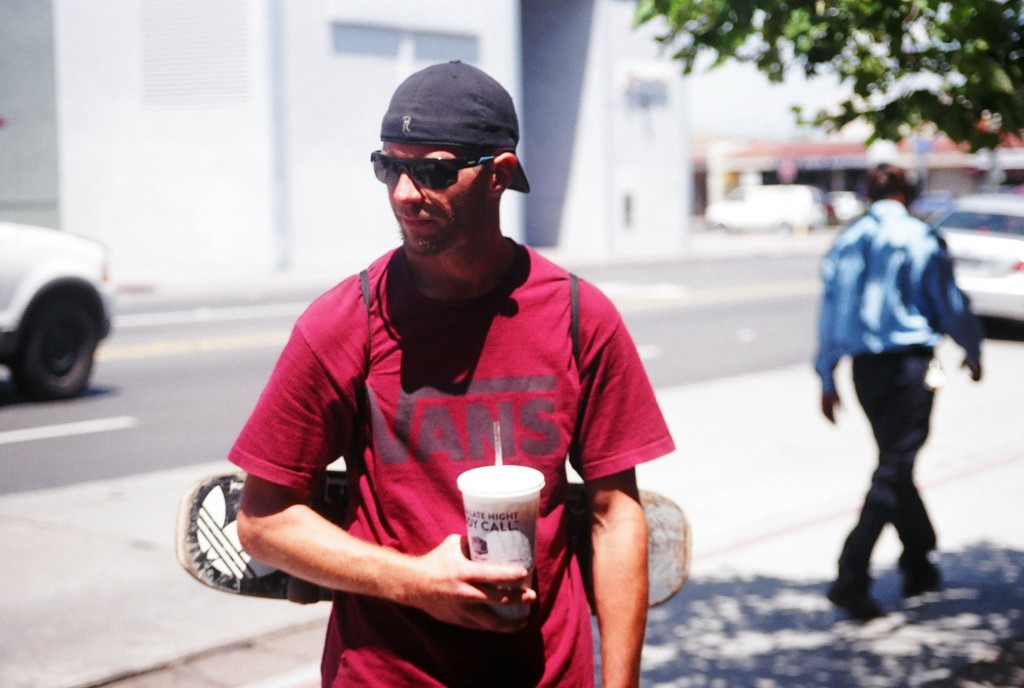 Photo Credit: Brent Jensen, The AjA Project
Very often, homelessness is inconspicuous. It may be hidden from others with clean clothes and simple material objects. This homeless man carries such things with him every day. He greets his friends as he passes them by on skateboard.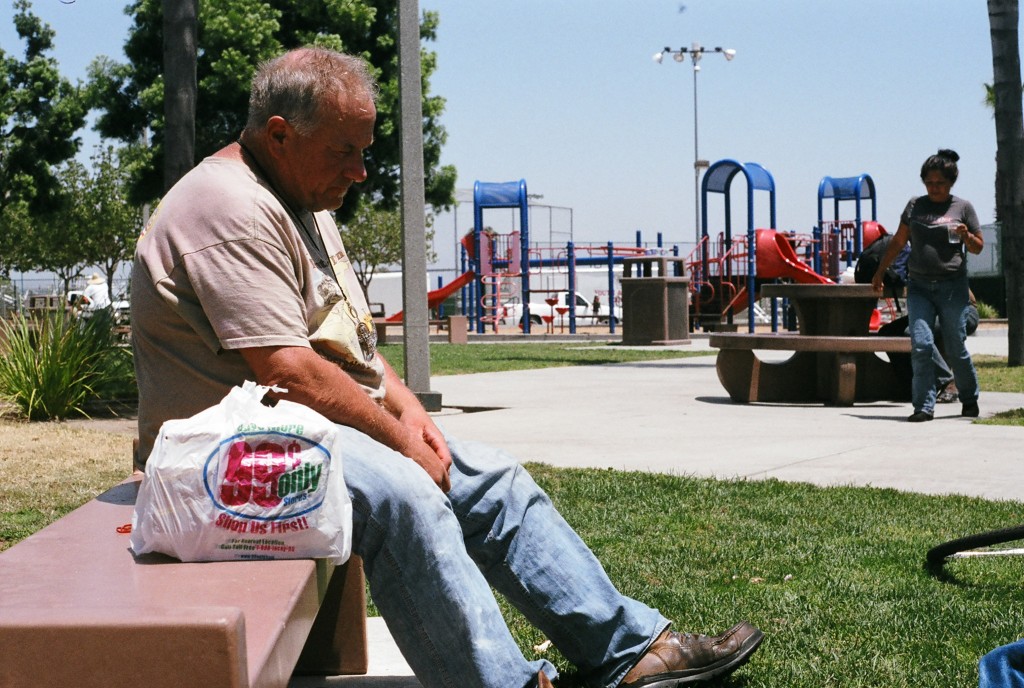 Photo Credit: Brent Jensen, The AjA Project
This elderly homeless man says he has chronic obstructive pulmonary disease, or COPD. "I know my time is coming pretty soon," says the man, whose incessant coughing and choking on phlegm keeps him up at night. His toothy smile, parched skin and tiny blue eyes show a deep familiarity with the streets. He curses the McDonald's owner who did not let him stay outside the business for very long.