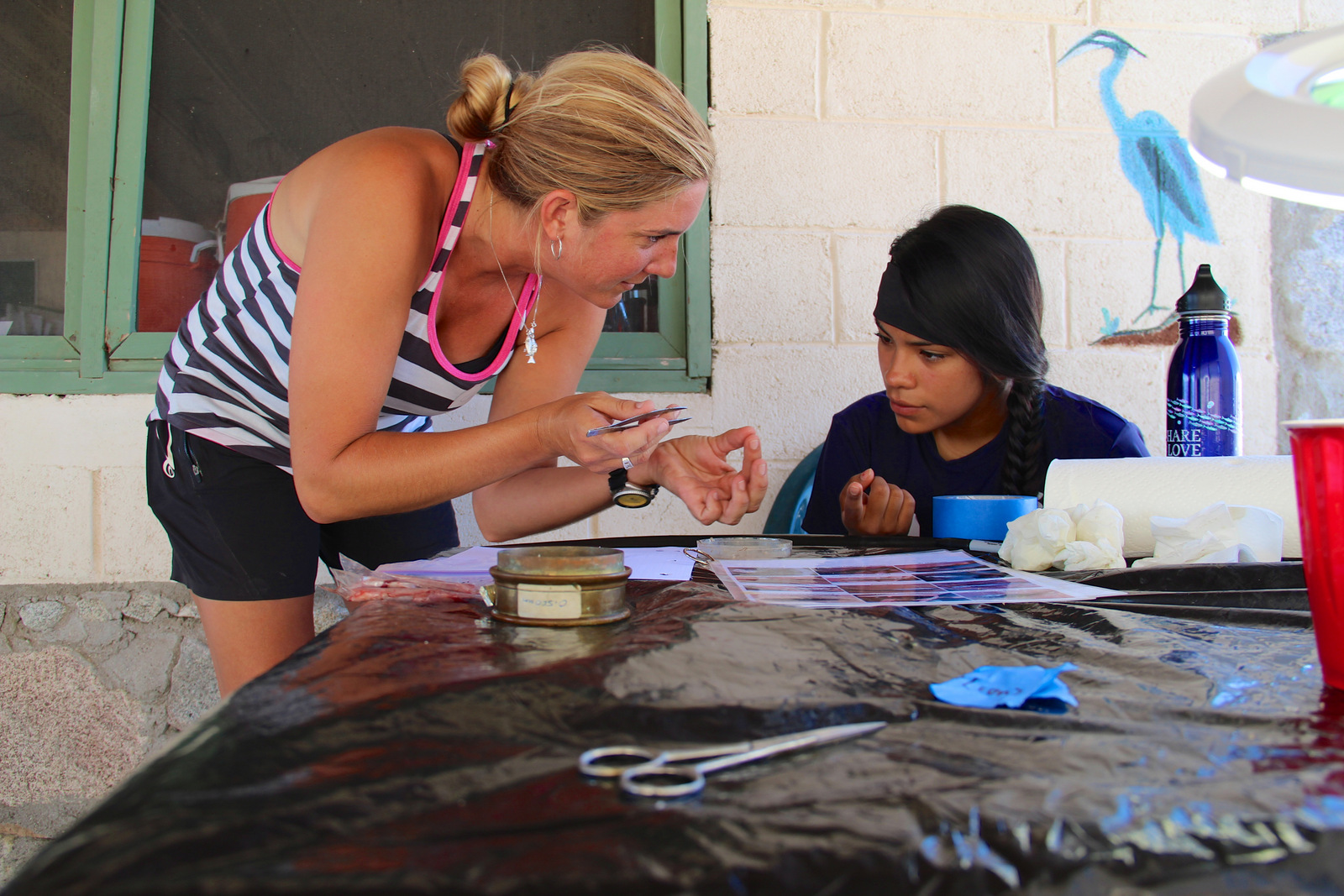 Hoover High School student Diana Tamayo (right) with researcher Christiana Boerger in Baja California. | Photo Courtesy of the Ocean Discovery Institute
By Hoa Quách

Seventeen-year-old Diana Tamayo would be the first to tell you that many members of her extended family do not have the best of reputations. Some cousins were known at Hoover High School for their mischief. An uncle was convicted of a serious crime.
The City Heights youth is blazing a new trail.
"My parents are so proud of me," said Tamayo, who recently returned from the Ocean Leaders summer science program in Baja California.
Tamayo was one of 22 students from City Heights to participate in the annual, intensive, research-based trip hosted by the Ocean Discovery Institute. They presented their findings and detailed their experiences to an audience of about 150 people during the nonprofit's "Report to the Community" event Aug. 6 in La Jolla.
"It was a once-in-a-lifetime opportunity," Tamayo said of her summer of studying in Baja. "It felt like I was in a dream."
Now in its 10th year, the Ocean Leaders program sends 20 or more students to Bahía de Los Ángeles in Baja California for the five-week science excursion.
The students prepare for the trip south of the border by training in San Diego for 12 weeks, learning how to swim and conducting various research methods.
This year, the students were divided into three research groups. One studied sea- and land-energy transfers. A second studied sustainable fisheries. A third worked on so-called "bycatch reduction," which refers to fish that are caught unintentionally, thus contributing to the demise of their species.
Aside from their research projects, students were given the opportunity to explore wetlands, swim with whale sharks and learn how to make sashimi.
"They really feel like scientists during this program," said Ocean Discovery Institute's Science Education Coordinator Jimmy Pennise. "They're able to ignite their passions for science."
Manuel Ramirez, 15, described the trip as "amazing." He said the program sparked his interest in the oceans.
"I didn't know what I wanted to be, but now I know," said Ramirez, who attends Hoover High. "I want to be an oceanographer. I want to give back to the community and help my family out."
The same is true for Tamayo, who hopes to attend UC Santa Barbara or UC Santa Cruz in fall 2015. She had planned to major in business or marketing, but now has an interest in science.
For 17-year-old Joseph Ekyoci, the program did more than teach him about science. He said it also allowed him to hone his English skills.
"My dream is to work in politics and business," said Ekyoci, who came to the United States from Congo two years ago. "I pushed myself to learn English."
The Ocean Leaders program was founded a few years after the Ocean Discovery Institute was created in 1999. Students are selected through interviews and are chosen based on their "commitment and resilience," said institute founder and Executive Director Shara Fisler.
Ocean Leaders has grown to include the support of 50 visiting scientists. Seven out of 10 Ocean Leaders graduates go on to attend four-year colleges and universities, more than double the ratio of their high school peers.
But the program isn't cheap. It costs about $6,000 to send one student on the five-week excursion, Fisler said. But, in many cases, the community sees a return on the investment.
Khan Chi Dam, like other former Ocean Leaders has returned to the Ocean Discovery Institute as an intern. Dam participated in the Ocean Leaders program eight years ago and said it gave her a newfound appreciation for science and the environment.
"Growing up in Vietnam, I lived by the beach but never appreciated it," Dam, 23, said. Ocean Discovery Institute "taught me how to appreciate nature in a way I never did before."
"ODI told me a career in science was possible," said Dam, who recently graduated from UC Santa Cruz with a degree in marine biology.
Ocean Discovery Institute works with about 6,000 students in all each year, but there are an estimated 12,000 "more young people" in City Heights in need of the same opportunities, said Fisler. The nonprofit hopes to open an 11,000-square-foot Living Lab in City Heights' Manzanita Canyon in January 2016. The $12 million, state-of-the-art laboratory is projected to serve more than 10,000 City Heights students.