By Brent Jensen, Kiran Mehta, Beto Soto,
Binti Musa and Karla Flores


In efforts to positively impact the community, Price Philanthropies and The California Endowment invested an estimated $265 million in City Heights over the past 15 years. The construction of the City Heights Urban Village, a cluster of restaurants, retail stores and produce markets located at Fairmount and University avenues is one of the most tangible developments funded by Price Philanthropies recognized by City Heights residents. The California Endowment has made investments in local nonprofits with the aim of empowering City Heights residents to become the leaders and change-makers in their community. However, as reported by Megan Burks of KPBS, the impact of the both foundations' contributions have not been reflected in traditional statistical studies. City Heights still performs worse than the county average when you look at income, employment, obesity rates, educational outcomes and crime.
In recent weeks, The AjA Project's YAC Youth Media team has taken a qualitative approach to measuring the impact of philanthropy in City Heights. They reached out to residents of City Heights to ask how they have seen their community improve over time what other changes they believe would positively impact their community in the future.
Below, are the opinions and sentiment of the homeless population in City Heights.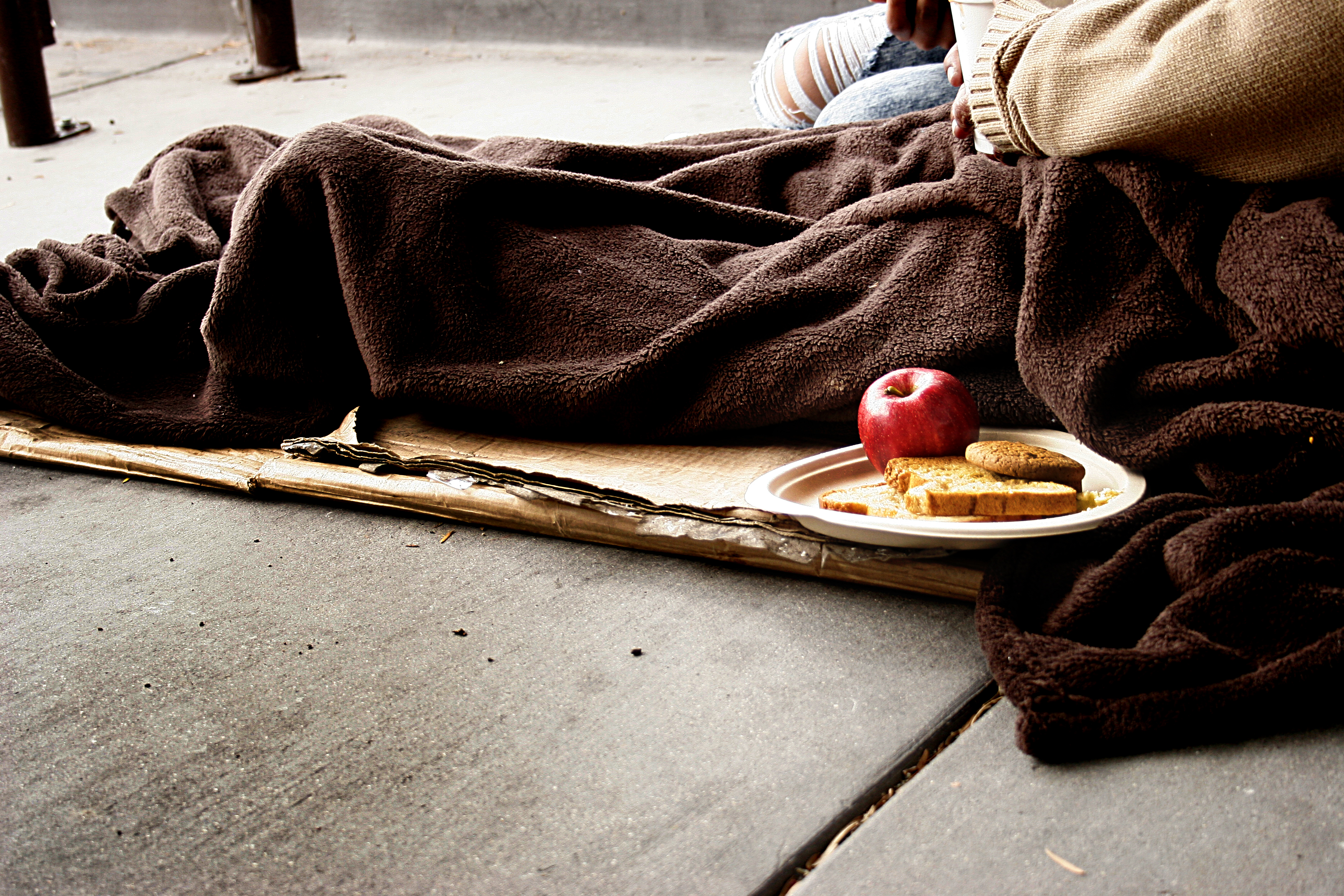 Susan Davis was drawn to City Heights in 1987 by the prospect of affordable housing. She owned a home where the Urban Village currently sits. Davis noticed the Urban Village as a fixture that increased the overall feeling of safety in City Heights. This, along with the presence of several nonprofit organizations and youth advocacy programs, has begun to positively shift the climate of the community, Davis said.
Davis said she feels women's safety in City Heights is at risk, specifically noting instances of "guys dragging girls into alleys in broad daylight." Davis also noted the police force in the community has made the drug and gang presence "more covered up, less visible and [less] available to our young people."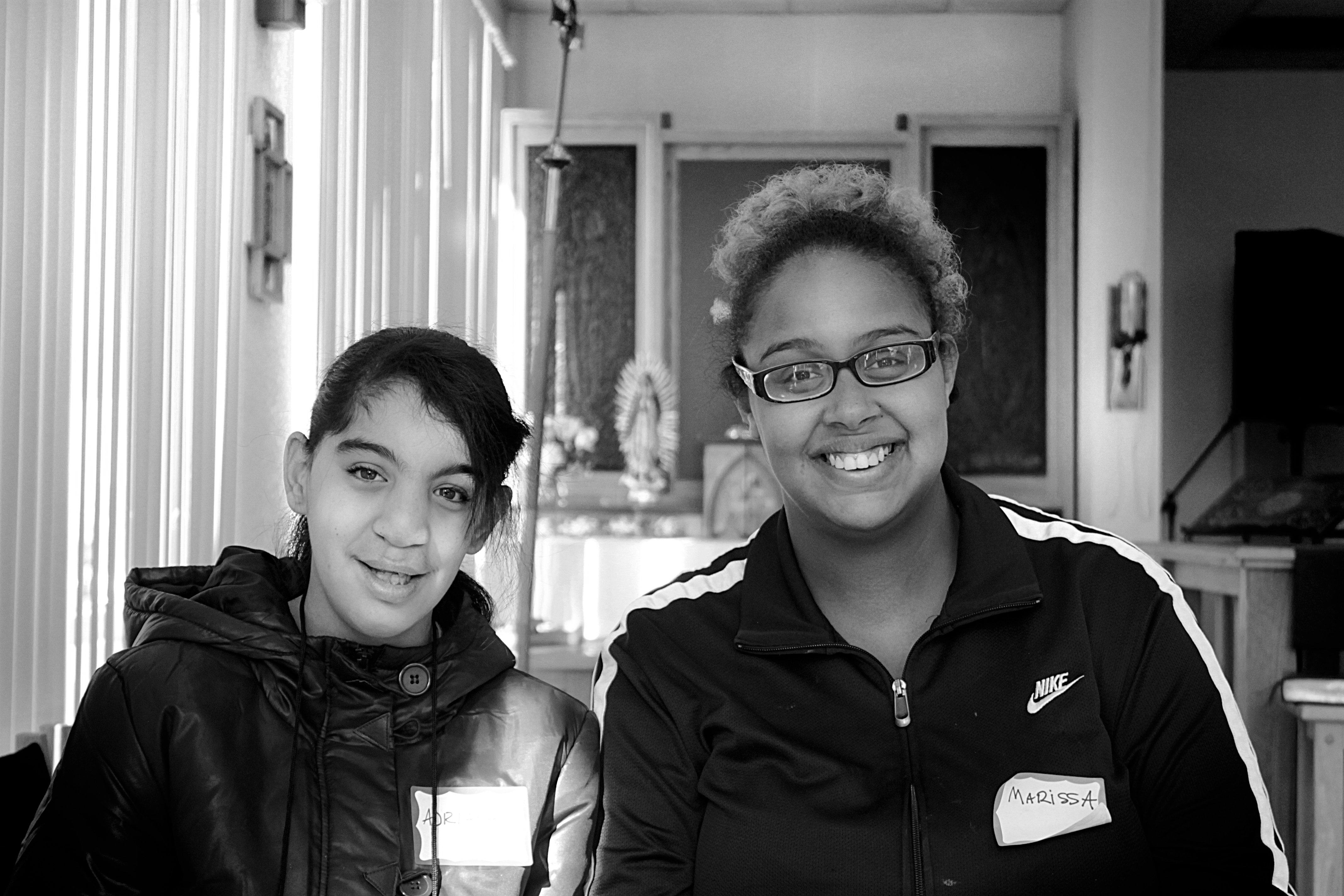 Marissa and Adrianna have been part of the transient population in City Heights for 4 to 5 months, relying on different family members for temporary housing.
"Me and my sister are kind of struggling to get clothes for ourselves," Marissa said. "Some homeless people don't know their resources and opportunities and things they can do to get back on their feet."
Marissa said she would be happy to see more community resources for clothing and food for homeless people in the area – similar to the resources set up by St. Mark's Episcopal Church at 4227 Fairmount Ave. Marissa said she believes there are too few opportunities in the job market for people who do not have a college degree.
"I'm good with kids but they want an associates degree," Marissa said about her ability to find a job in daycare.
Marissa said her sister Adrianna has a severe mental disability that makes living conditions even more difficult for these two sisters. Marissa is adamant she takes adequate care of Adrianna: "My little sister comes first," she said.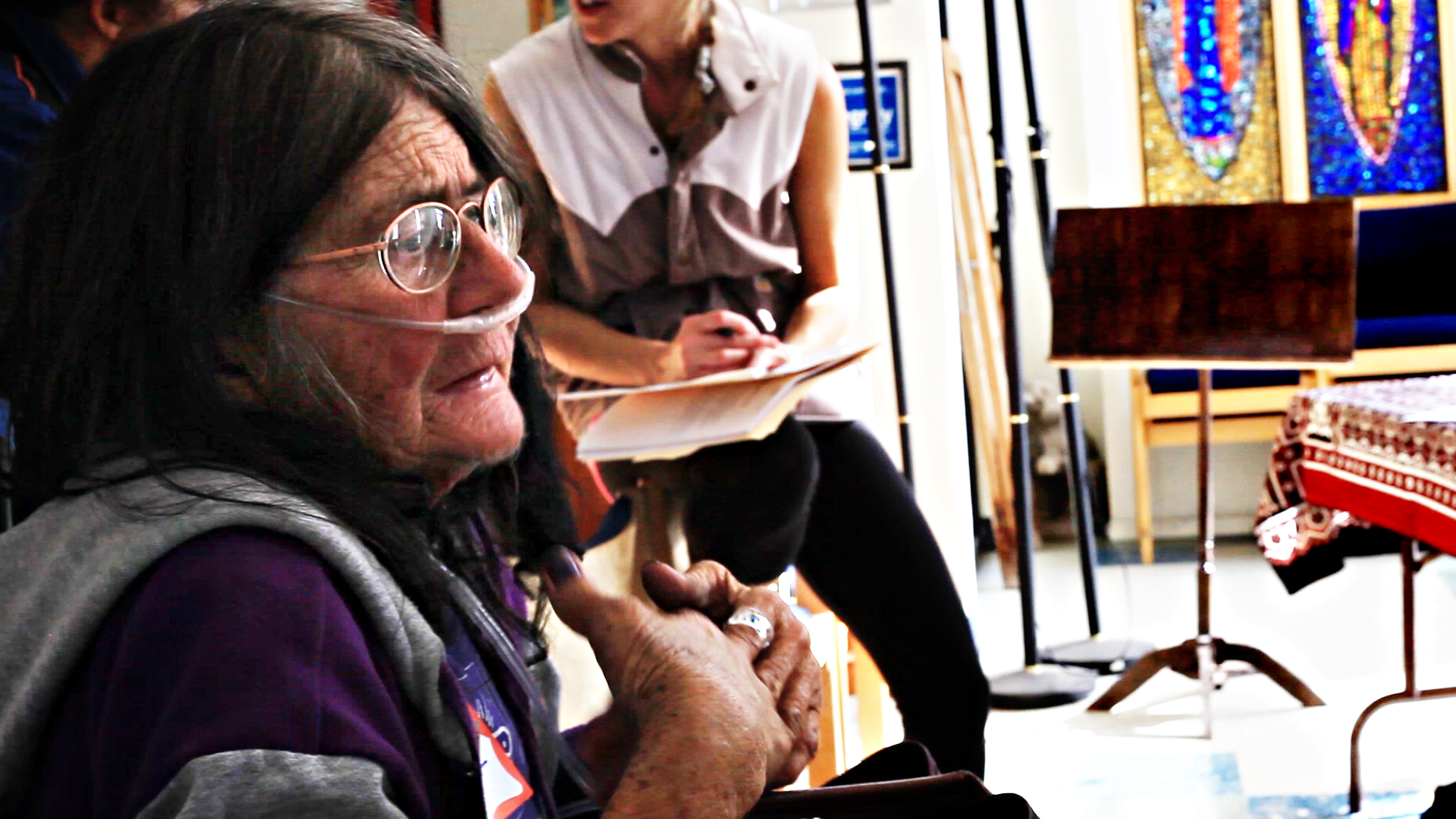 Jane has lived for 14 years in City Heights. Her ongoing battle with Chronic Obstructive Pulmonary Disease (COPD) left her with several problems that continue to exacerbate the difficulties of being homeless. There is no place to plug in an electric wheelchair on the street and there is restricted access to shelters because of her oxygen tank, Jane said.
"I've had three strokes," Jane said, who often has trouble crossing the street without assistance. According to Jane, her troubles are worsened by her experiences with the police who "treat you like crap" and want to "shove us out."
Jane addressed the need for "public showers and public bathrooms" and the need for "a place where homeless can check in and have a place to stay and a safe place to put their things." Often, homeless shelters do not make accommodations for those who are sick or handicapped, Jane said. More often than not, these physical limitations prevent Jane from accompanying her daughter to stay in homeless shelters due to the necessity of her wheelchair and oxygen tank.
[Editor's Note: Shelters that contract with the city's housing authority are equipped to accept people with wheelchairs and oxygen tanks.]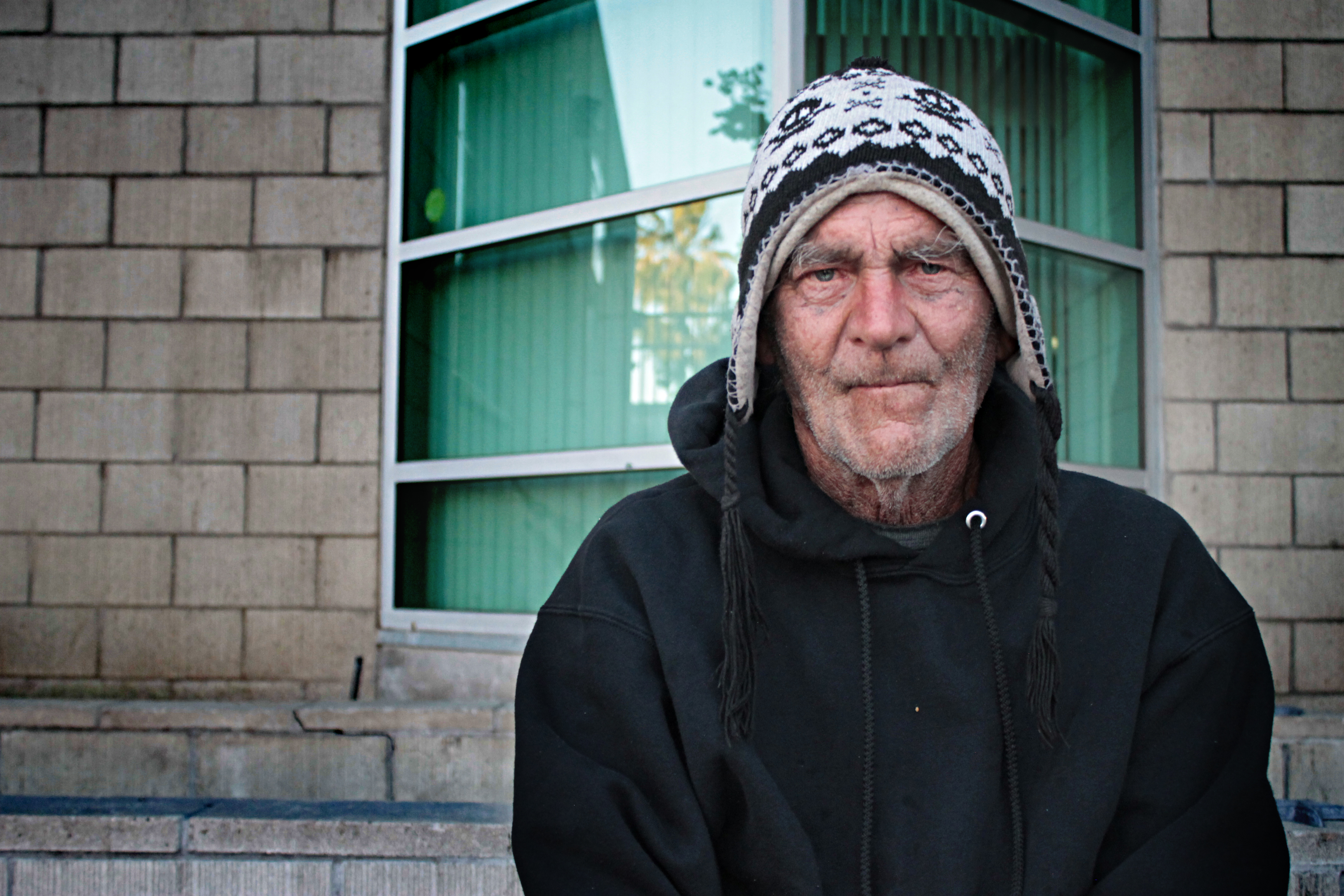 Tommy takes recyclables in for a refund every day. This money, in addition to food stamps, gives him comfort in the way of satisfying everyday needs. When he isn't able to collect the groceries periodically distributed by churches, his friends share their portions of food with him.
In his nine years homeless in City Heights, Tommy has observed "new buildings…not much." Tommy said access to bathrooms and public showers would improve the hygienic situation of the homeless.
Tommy also said he would like to see more programs in support of safety for homeless women. He has seen homeless women living and traveling alone and said he has heard "horror stories" of women being abused.
Tommy stays in his pickup truck, and when asked if he stays warm, he answered in the affirmative, laughing.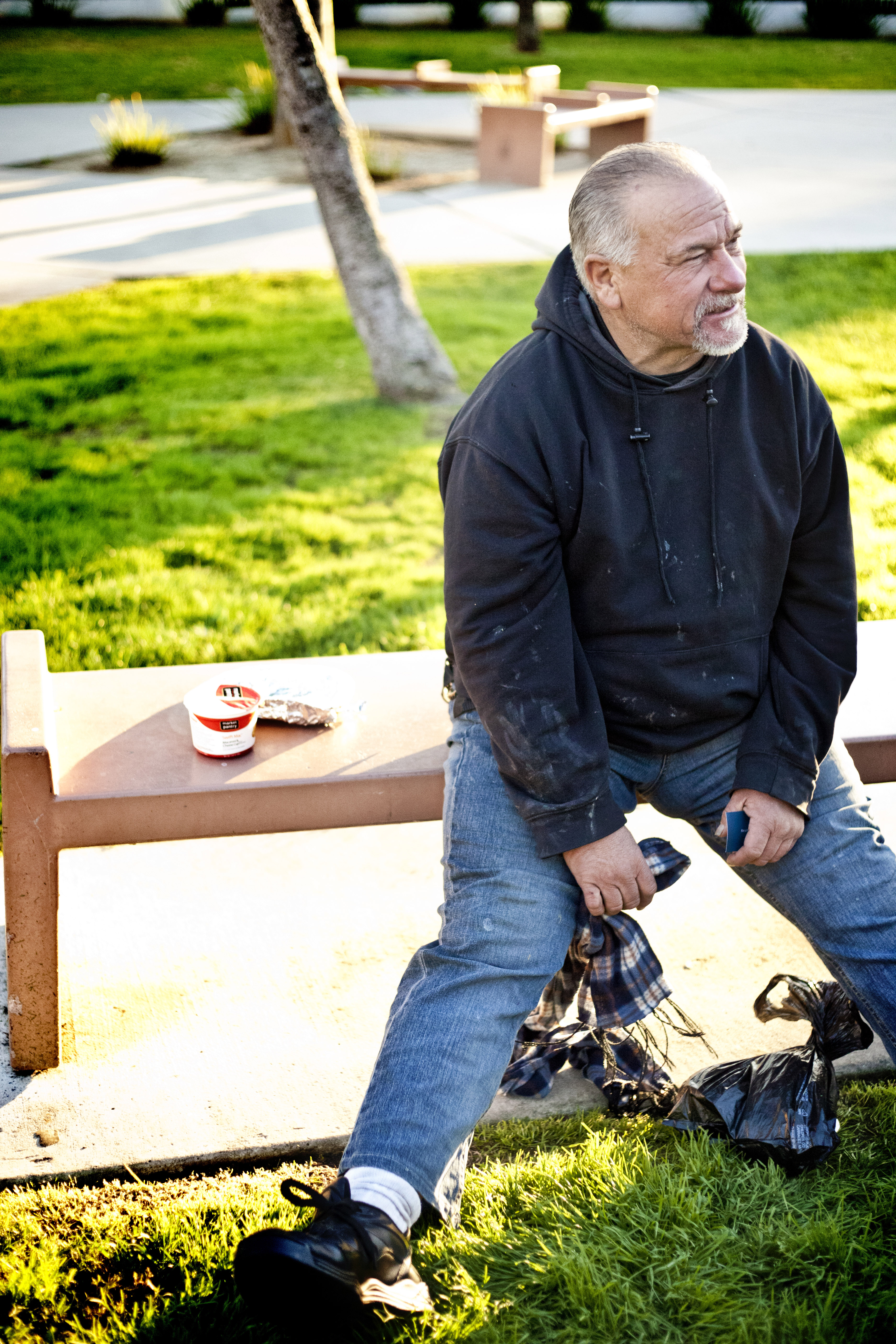 Larry Pusey has been on the streets for 11 years. "We are not ready for this epidemic of homelessness," Larry said. He stressed that the homeless population in City Heights is not adequately equipped to combat difficulties. "People have their whole lives in their shopping cart," and the community has "no place for people who loose their homes."
Larry sleeps at Officer Jeremy Henwood Memorial Park on Fairmount Ave, but according to him, police often disperse the homeless occupants at night.
Larry shared that although his mother is no longer with him, he feels he is "the richest man in the park" and "blessed to be here." Though he struggles with addiction, Larry invests his hope in the youth of City Heights and believes strongly that the future of the community rests in youth development.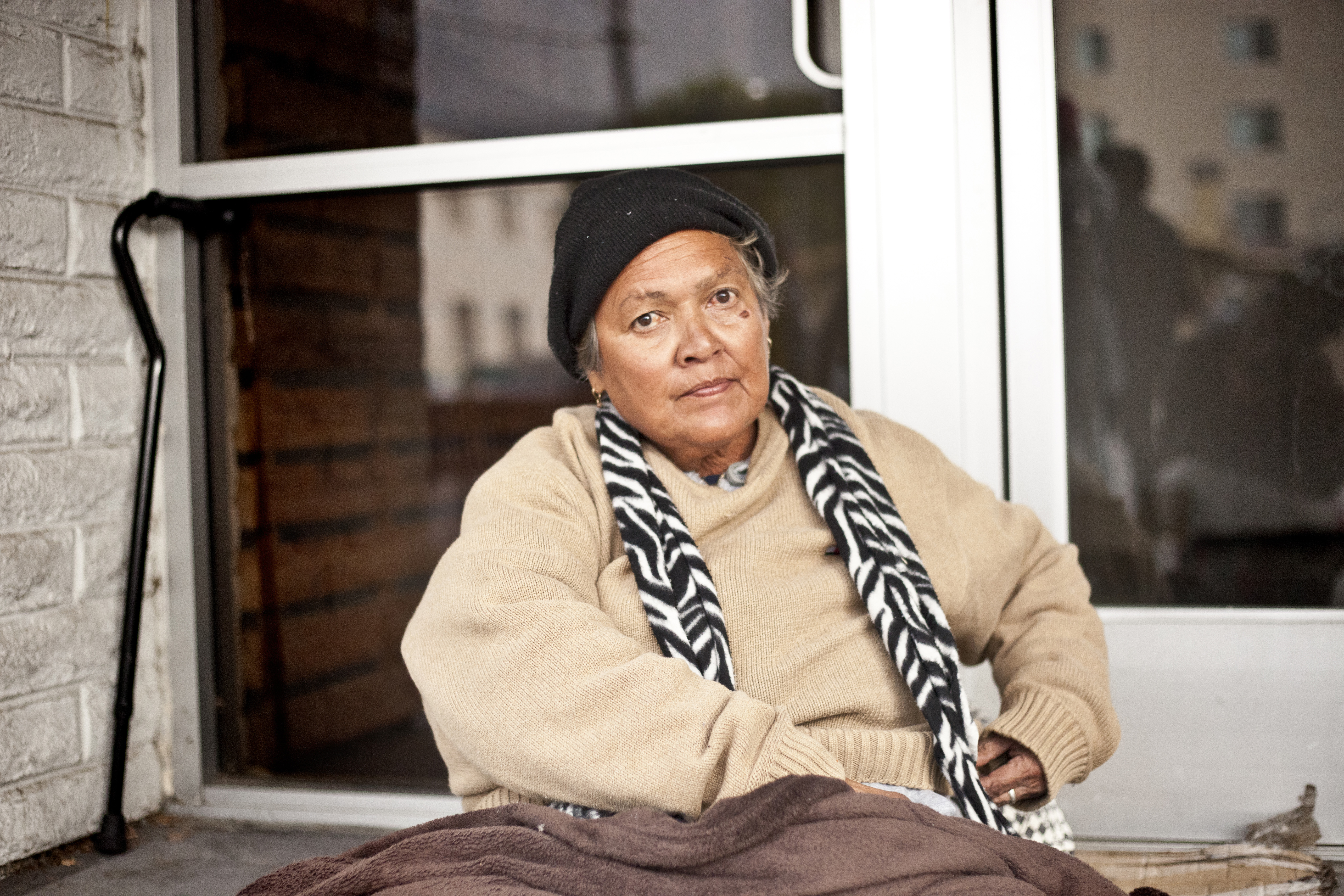 The Youth Media team met Faith Norman outside of The AjA Project building, where she took refuge from the rain. Faith has been in City Heights for almost 30 years and has been homeless since August 2014.
"I'm on my own. I'm surviving. I do what I can," said Faith, who receives stipends from Supplemental Security Income (SSI).
As a frequent victim of petty criminal activity, Faith has been deprived of most of her personal belongings.
"I had a shopping cart. They took everything." Faith said.
She occasionally finds aid from the Safe Havens in downtown San Diego, a transitional housing organization funded by the Episcopal Community Services. She feels that "it's up to the individual" to improve their living condition. "It's not the place, it's the people in the city," suggesting a weakness in the moral constitution of certain individuals rather than a failure in the community.
While speaking with us, Faith was given alms by a sympathetic passerby.
"By March I should be able to find me a place," Faith said with a tone of self-reliance.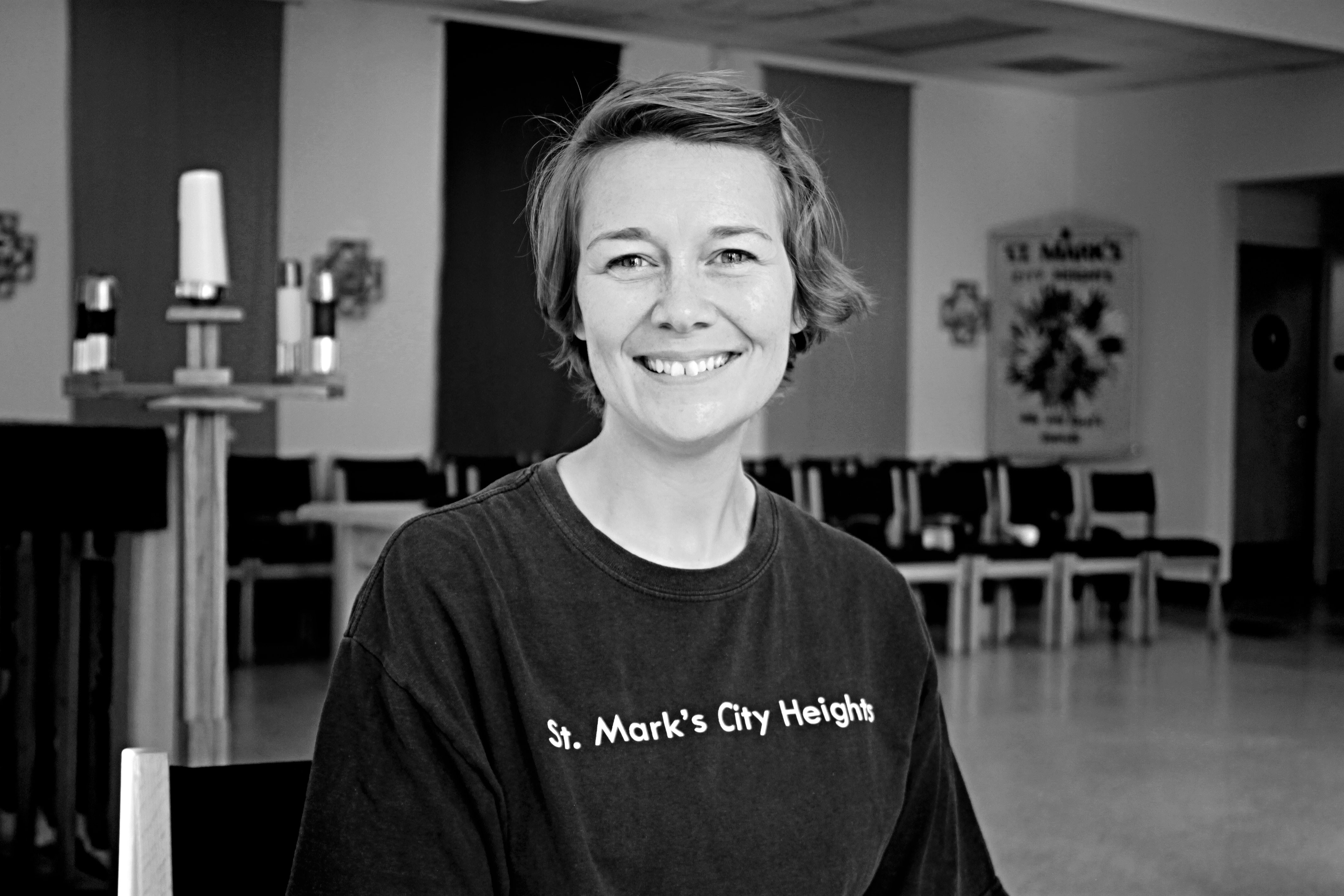 Heather Smith helps operate the Pantry, a "food cupboard" program at St. Mark's Church located at 4227 Fairmount Ave. All residents of San Diego County are eligible to receive meals and packaged food from the program. St. Mark's also hosts a fresh food distribution on the third Saturday of every month at 9 a.m. The food distribution is free to anyone over 18 years old.
Smith said more funding would be essential to provide more food for homeless and low-income families, build a strong volunteer base and increase education and resources for people on a tight budget.
Smith also recommended "vast transportation improvements" for homeless people who need to access resources downtown. She also sees the need for a "place to facilitate identification processing," which many homeless people do not have. "Mobile showers are implemented in other parts of San Diego and may come to City Heights with the right political groundwork," she said.
Heather said she is impressed with the community's active youth population and sees "young people taking a real part in improving the neighborhood."