By Brent Jensen, Kassandra Elias, Famo Musa,
Kiran Mehta and Karla Flores


In an effort to positively impact the community, Price Philanthropies and California Endowment has invested an estimated $265 million in City Heights over the past 15 years. Funded by Price Charities, the City Heights Urban Village, a cluster of restaurants, retail stores and produce markets at Fairmount and University avenues, is often recognized by City Heights residents as a new development. Guided by a 'bottom-up' approach, the California Endowment has made investments in local non-profits with the aim of empowering City Heights' residents to become the leaders and change-makers in their community. However, as reported by Megan Burks of KPBS, the impacts of both foundations' contributions to the city have not been reflected in traditional statistical studies. This presents an interesting dilemma as City Heights still performs worse than the county average with regards to income, employment, obesity rates, educational outcomes and crime.
The AjA Project's Youth Advisory Council Youth Media Team approached the topic of measuring change by exploring how the individual perceives community change through a qualitative lens. The Youth Media Team reached out to residents of City Heights and asked how they have seen their community improve over time, as well as what changes they believe would prospectively have the greatest impact on their community in the future. The Youth Media Team aims to record, preserve and share the opinions and portraits of these members of City Heights.
The opinions and sentiment of the youth population in City Heights is the focus of this story's outreach. The YAC Youth Media Team conducted interviews with youth ages 11 to 18 years old from local City Heights-based organizations La Maestra Foundation and City Heights Youth for Change. While the perceptions of youth in City Heights are not always directly informed by the contributions and investments of benefactors like Price Charities and the California Endowment, the changes relevant to the youth population are those that affect and impact their daily routine, interests and the issues they care about.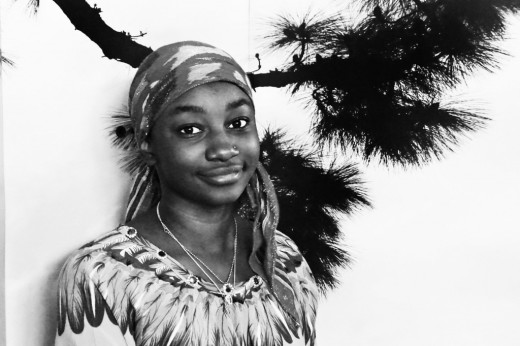 "It's not going to take just one person to make the change, you have to get everybody involved," Sitey, a City Heights Youth for Change member said.
Sitey, a senior at Crawford High School and member of City Heights Youth for Change, is an active member of the City Heights community through various clubs including Parents Students Residents Organization, Crawford Adventure Club and Youth EmPowerment Focus.
Looking to elevate the youth voice within her community, Sitey attended a conference through City Heights Youth for Change to communicate her concern about issues in the community and speak about the need to raise graduation rates. Sitey feels that teachers at her school don't always provide students with as much support as they possibly could. She hopes more teachers will make the effort to go "above and beyond" and help meet the individual needs of students whenever necessary.
Sitey also expressed an interest in seeing more streetlights and street signs to improve traffic and pedestrian safety, "so the kids can feel safer." She values the cultural diversity at Crawford High School but wants to see more diversity within her school's clubs.
"With more diversity comes a wealth of new perspectives and stories," Sitey said.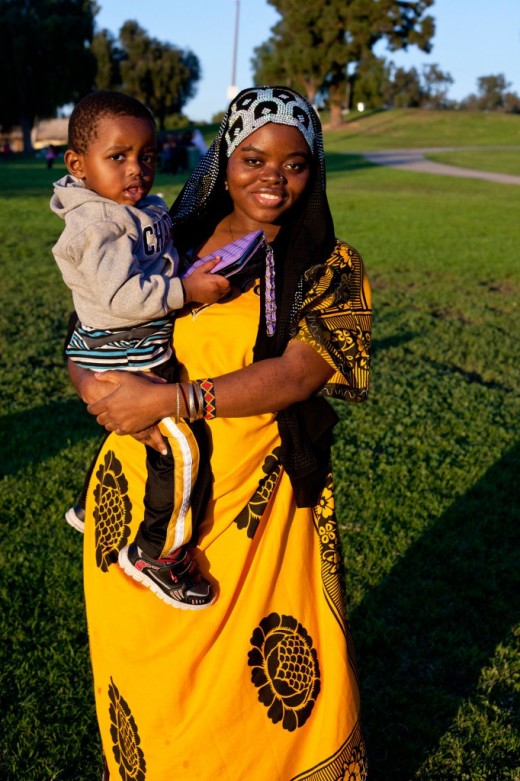 "We are trying so hard to reach our goals right now but we are not there yet," Amina, a City Heights resident for eleven years said.
Although Amina has lived in other cities and states, she always comes back to City Heights.
Amina first started working with a group called the Crawford Collaboration, which later became City Heights Youth For Change. Through their efforts, a safety group was established to advocate for more lights in City Heights. The organization takes additional initiatives such as working with youth to improve their testing scores for the California High School Exit Exam and improve the educational system at Crawford High School by working toward better communication between parents, students and teachers.
"In my point of view, I am not going to say I have seen a lot of changes, but (residents) are improving, in trying to change (the things) they keep talking about," Amina said.
She is a member of the Somali Bantu Community of San Diego, an organization working to provide translators for welfare centers, clinics and schools for the Somali Bantu population in City Heights who do not speak English.
"We try to (educate) our community by getting San Diego to know the Somali Bantu people exist," Amina said.
She is also part of the Somali Bantu Association of America, an organization that works to provides translators and English language classes to non-native speakers, and assist Somali Bantu residents in filing taxes and attaining better wages.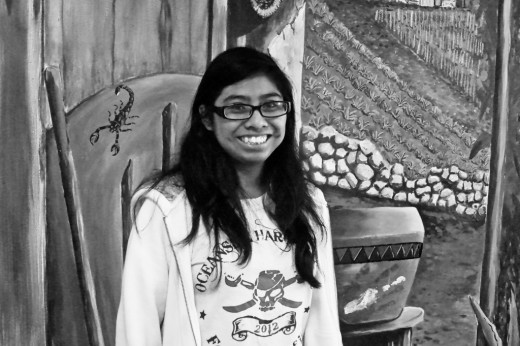 "They see we're doing something better for the community," Laura, a La Maestra Foundation member said.
Laura is a member of Skate 4185! at the La Maestra Foundation, a program that gives kids a chance to use their love of skateboarding for public benefit by collecting litter while skating around the City Heights community.
"The program is full of positivity, and gives its members a comfortable and accepting learning environment," Laura said. Participants of the program, spearheaded by La Maestra Foundation's Program Coordinator, Matt Eaton, are primarily in elementary and middle school.
Laura said cigarette smoke and litter pose as disturbing influences as she walks around City Heights. Having moved from Oceanside to City Heights a little over a year ago, she believes residents can invest themselves in the community's cleanliness in order to make a difference.
Laura said the La Maestra Foundation is a vital place to receive help for local youth who may not receive support from their family members, or whose family members may not speak English proficiently.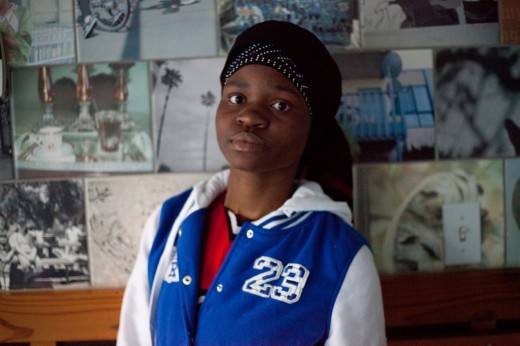 "We are doing whatever we could do to make changes in City Heights and in our schools," Fama, a City Heights youth resident and mother of three said.
Fama, a member of City Heights Youth For Change, has lived in City Heights for five years and is constantly striving to make positive changes in her community. By joining clubs such as the Parents Students Residents Organization, Fama works toward improving communication between parents, students and schools.
She said while the City Heights Retail Village is a very positive change in the community, "City Heights (continues to) look depressing because of its lack of lights in some areas."
The recent Crawford High School graduate is devoted to making positive changes in the community so her kids can have a better future and a better education.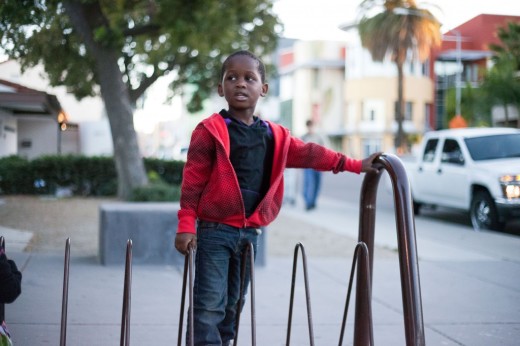 Fama's son Osman, age 4.
Fama was also happy to mention the efforts of students and families in the ongoing fight for a community skate park.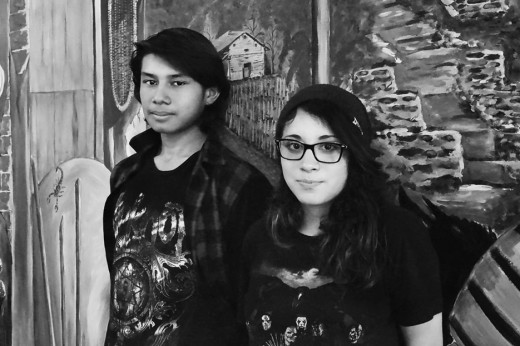 As avid skateboarders, Angel and Natalia (left to right) enjoy nothing more than a ride down University Avenue and would like to see more skate parks in the city for youth to enjoy.
"My mom signed me up," Natalia, a Hoover High School student said about her introduction to the La Maestra Foundation. "I didn't want to come."
But Natalia said she is very appreciative of the program's ability to bring kids together to skate while promoting a sense of community-wide safety and friendship.
Natalia's friend Angel, also a student at Hoover High School, said violence in City Heights used to be pretty bad. Angel said he has lived in City Heights for two years and has observed more people going out and enjoying the community recently.
Although some of the transient residents in City Heights make Natalia and Angel feel unsafe, Angel said cops are on constant patrol and their presence contributes to a heightened sense of security for these youth.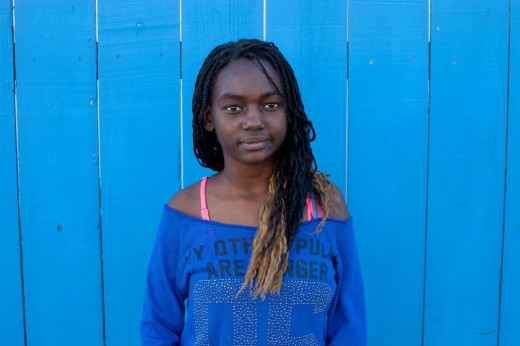 "I want to see (more) involvement of parents," Halima, a 14 year-old City Heights resident said.
She said she appreciates the diversity that can be found among the City Heights community every day.
"When you walk around, you see different types of people instead of just seeing one group of people," Halima said. She is currently the youngest member of City Heights Youth for Change and said the organization's efforts are currently focused on improving graduation rates in City Heights' schools.
As a 14-year-old high school freshman at The Preuss School of UC San Diego, Halima is encouraged by the parent-teacher meetings her school offers to support youth in improving their grades. Halim is a member of the Somali Bantu community and has lived in City Heights for the past 11 years.
"One positive thing I have seen happen (in City Heights) is less violence," Halima said. "(A couple years ago) you would hear about car crashes, gang violence and gun shootings, but that has changed."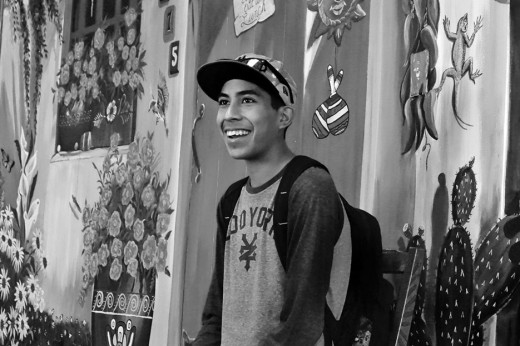 Daniel, a member of La Maestra Foundation's Skate 4185! program said he would like to see "more skate parks and more security" in the city to have safe places to practice his favorite hobby.
While Daniel feels the city's bus stops are "dirty and scary" and is especially concerned about waiting at bus stops at night, he said he is thankful for local programs in City Heights that support his love for skateboarding. Daniel is invested in incentive-based programs such as Skate 4185! that provide youth participants with new skateboarding parts for giving back to their neighborhood through trash cleanup and positive behavior.