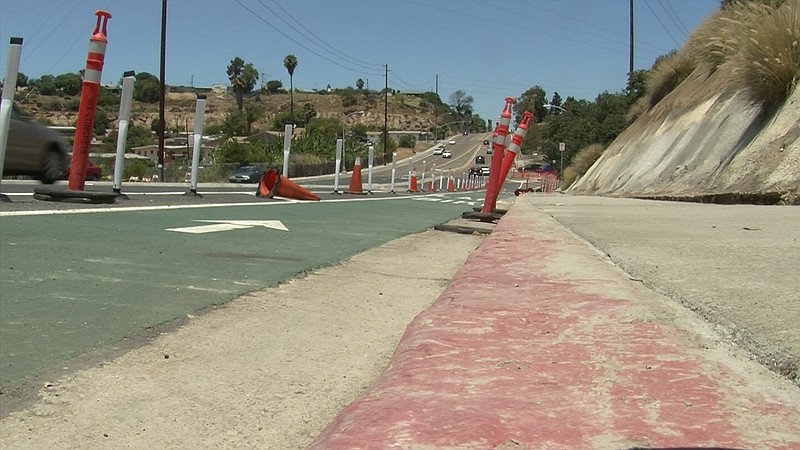 Traffic cones are lined along a protected bike lane and new sidewalk installed at 54th Street near Chollas Parkway, July 5, 2016. | Photo by Tarryn Mento
By Tarryn Mento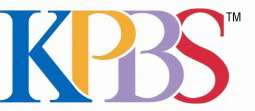 Orange traffic cones and neon netting near the busy intersection of 54th Street and Chollas Parkway on the border of City Heights are a sign that safety improvements are in progress.
Since 15-year-old Jonathan Cortez was killed in a hit-and-run accident while skateboarding near there last fall, the community has pushed for better sidewalks. In May, San Diego city officials announced they had scraped together enough funds to expedite the plan, and now the project is nearly complete.
The upgrades stretching from Lea Street to Streamview Drive come as preliminary data released this month from the Department of Transportation shows a nearly 8 percent uptick in traffic fatalities last year after a 10-year decline.
Senior Civil Engineer Edgar Puente, who is overseeing the 54th Street project, said the changes will include more than just the new walkway.
"We're always looking for ways to increase pedestrian safety, so in this case we added sidewalks on both sides of 54th Street. Also, we're adding curb ramps and pedestrian refuges, so pedestrians could safely come to the island, stop, look both ways and cross the street safely," he said as cars whizzed by along the street behind him.
City staff are completing the project instead of an outside firm, which helps keep costs low and moves the project along quickly, said city spokesman Bill Harris. The project may carry a smaller price tag than expected, Harris said.
"The final project cost is now estimated to be up to $150,000 with design included. The team believes it will come in below that amount when finished," he said in an email.
An official had previously estimated the project could cost up to $200,000, which is coming from the leftover funds of completed projects.
The sidewalk could be completed within weeks. All of the upgrades, including crosswalk improvements and additional bike lanes, are expected to be done by the end of August.